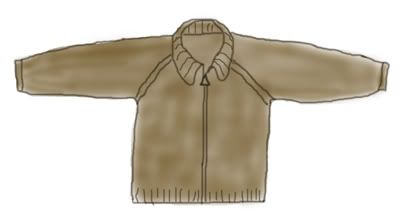 Here's a rough sketch of the basic sweater I'll be using for Shetland stitch pattern. (Or Faroese, but found in the Shetlands.) I did not attempt to paint in all the little repeats of the pattern. I'm not that crazy.
I was able to cast on this evening. I had to leave the room to double check my stitch count, because it's quite annoying to do one of those really big cast-ons and find out you screwed up by 10 stitches because your kid interrupted you around "75, 76, 7, 8, 9, 90, 91..." Don't laugh. I've screwed up some sweaters that way. And since I've always had big hips in relation to my middle, I don't want a smaller number of stitches for the ribbing at the hips. So, it took several tries to accurately count to past 100, but I did put markers at the one- and two-hundred marks. And I'm sure I have the correct number of stitches.
With a little luck, I'll have progress pics to show in the next couple of days. Stay tuned!