After a very strange December, it's finally looking like winter here in Wiscosin. We had about 5 inches of snow overnight and more is on the way. And it's not too cold out, so playing outside doesn't quickly lead to frostbitten cheeks. Of course, Owen left his winter boots in his locker at school on Friday, because he's a cool middle schooler now, and way too cool to wear his boots home. Now he's regretting it.
I've been puttering away on the Shetland Cardigan. Here's a progress pic, laid out on the hood of my husband's car:
Although I'm loving this sweater, I don't think I'll do really frequent progress pics, because it doesn't photograph well. A lot of sameness, just growing. In this photo, it's about 6.5 inches along.
While I was cropping and choosing a pic for this post, I noticed this: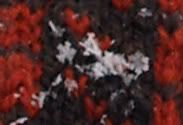 One of those snowflakes has 5 spokes, not 6. What does it mean?
So about my friend Jim's machine knit sweater... you know, the one I talked myself in to tackling on Friday? Or was that Thursday? I got the machine all limbered up, found my notes which were less than helpful, and spent a while reading the actual knitting to figure out what I had done, which wasn't exactly what my notes said. Then I realized I really was not happy with the appearance of the increases along the selvedges of the sleeve. Since I'm working this in a Fisherman's Rib, it's a bit trickier than a standard fully fashioned increase would be. I spent some time googling for internet tutorials on machine knitting (no luck), ordered a bunch of books from the library, and then decided to try fiddling with my own ideas. Using some cheap acrylic, I was able to figure out a process that keeps the integrity of the pattern, does not lead to dropped edge stitches, and looks pretty good.
Yesterday, with great optimism, I set out to make the final sleeve. It was working really well. Then, I noticed that one strand of the yarn had broken at one point and the strand was not threading through the machine properly, but was instead bunching up in the carriage. Grr. Back up a row. No problem. Move forward. As I was getting up near the area where the raglan shaping starts, I was positivly glowing with anticipation of being done. Then, I looked under the machine at the work in progress and there were two holes in the knitting about halfway up the work. One might have come from the row where I found the broken strand. The other, a few rows below that, might have come from a small knot in the yarn. Back to the drawing board. In stockinette, I could easily fix this with a bit of yarn and a darning needle. In the fisherman's ribbing, it's a bit trickier to repair this invisibly. Still, I had such great luck with the edge stitches and the increases, that I'm optimistic that I reallyl can finish this week. Or I just tell Jim that I can't make the machine work and I hand knit him a bulky sweater in stockinette and call it done.