I am nearly done with this. Yay! You can make me an honorary Norwegian for the day when I get it finished. I'm planning to cut a 4" steek at the neckline and pick up for some small bands on either side of the steek and collar front edges, then install a 9" zipper, running all the way up to the top of the collar. So, I need to go buy a zipper today. My original plan had been somewhat different, but over the course of two years, ideas change.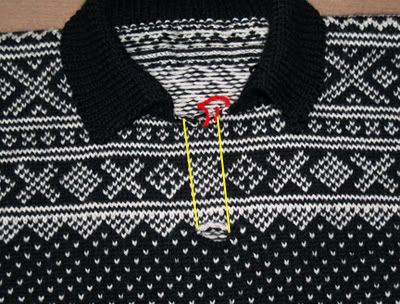 The yellow lines indicate the pick up lines on the outside of the steek.
I came back in from taking sweater pics on the porch and walked into a photo op in progress. Here's my family at the close of 2006.