Today seems like a good day for a rant. It got off to a craptacular start when the alarm sounded mid-dream, just as the some grand mystery was about to be resolved. It went steadily downhill when The Little Emperor awoke and we were trying to get ready for school. He couldn't decide what to bring for show'n'tell and couldn't find the one thing he was determined to bring. I ended up screaming at him, we were late, I didn't find his hat, and it's about 10 degrees F here this morning. Is that 10 f'in' degrees? Anyhow, we got to school, I did my volunteer stint, which went well, and now I'm home looking
at email. One of the items in my Inbox is a notice from Herrschner's, the capital of kitsch, plugging their quick gift items. I didn't even wait for the graphics to load before I felt a rant taking shape in my head.
Years ago, toward the end of my high school days, I had a favorite rant about
Gift Shops
. Or
Shoppes
if you prefer. It dawned on me that about 85% of the stuff in a typical gift shop has no purpose other than to give! Decorative (using the word loosely) little doodads that sit on a shelf and need to be dusted. Or put in a little glass case, so you don't need to dust so often. They usually don't rise to the level of art, or even folk art. I'm all for crafting a useful, everyday item so well that it rises to the level of art. That to me would be a great gift. But I don't understand the appeal of things like Hummel figurines that are tacky, expensive, fragile, and useless. Gift shop. Blech. Stores full of this stuff: designed and manufactured to be sold as gifts, because it has no other purpose for being!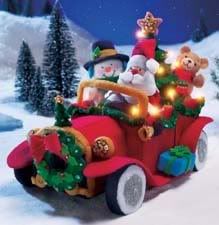 Stores dedicated to selling items with no use other than to give. So, in the moment that the first Santa-dressed Teddy Bear image uploaded in the Herschnerr's message, my whole 1978 rant about America's inane love of stuff came flooding back into my brain.
And now I've shared it with you. Bah Humbug.