Quilt!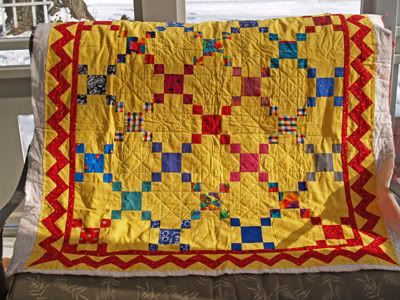 At long last! I dug this UFO out of Area 51 last night while I was looking for more of the yarn for the Setesdal pullover. This quilt was supposed to be a baby present for a girl who is now six years old! Whoops. In my defense, I'll mention that I had surgery on both hands for carpal tunnel syndrome around the time that the mom was pregnant with her and because of the degree of damage to my nerves, it was (and is) a long, slow recovery time. As it turns out, my neighbors are expecting another baby, so maybe if I am diligent, I can give it to them.
I should be able to speedily catch up on the rest of the alphabet and go sailing on into the finish line by the New Year. Wow, 2006 went fast!
(muttering) Roses, rickrack, rocks. Stash, sudoku, Scott. Tomato, torpor, um...
Speaking of the Setesdal, aka Area 51 Sweater, here's what's up with that:
I started the sleeve on the opposite side where the problem sleeve was. Easier for me to frog when the solution is underway. Then, I frogged back to the pick-up round. It'll be exciting to get a snazzy new sweater done with relatively little effort. I used charts from Suzanne Pagoldh's
Nordic Knitting
, a delightful introduction to the subject of knitting in the Scandinavian countries.