Just call me Helga
We took these pics earlier today, before the sweater had its first wash. I hope it will settle in around the zipper area a little better. It's on the drying rack right now.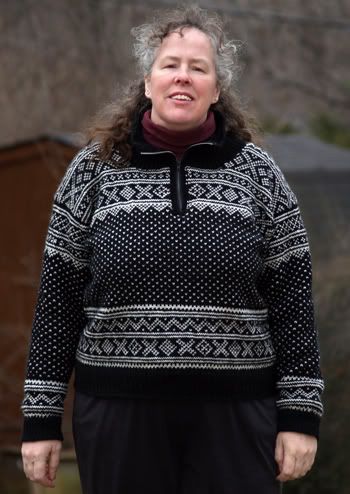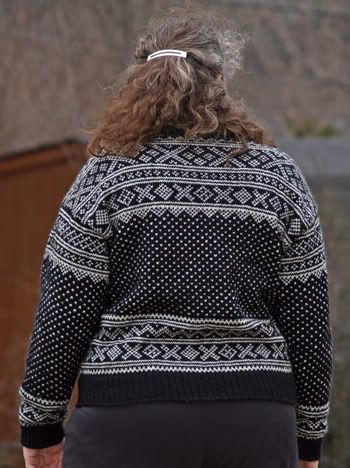 Details
Pattern: one I worked out from pictures and charts in Nordic Knitting
Yarn: Asa Gjestal Spinneri
Superwash Sport
, 100 m = 50 gms. purchased from Elann.com in 2004.
Started: Autumn 2004.
Completed: After 2 year dormant period, Dec 24, 2006
Worked on US #6 and #4 needles at 6 st and 7 rows per inch.
I had always wanted to make a somewhat traditional Norwegian sweater, but I'm not partial to snowflake motifs. Also, as a confirmed cheapskate, and even though I know that the Dale yarns are supremely durable, I never wanted to shell out the $$ for a sweater in my size. I hope I won't regret using this bargain yarn. So far, I'm pretty pleased with how this turned out. This was the first time in my life I ever put a zipper into my knitting. My original plan had been a buttoned placket, but I figured I should face my fear of zippers in knits. I sewed it in by hand, with backstitch and black sewing thread.