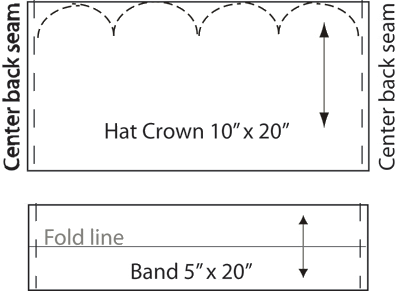 Since Laura commented about how she makes her fleece hats, I thought I'd post my recipe.
Since I like the contrast band, I cut two pieces: a rectangle 10" x 20" and another 5" x 20". Make sure to make the direction of greatest stretch (usually across the grain) goes around the head.
Fold each in half, with right sides together, and sew center back seams with a 3/8" seam allowance. Turn right side out.
Fold the band in half, with wrong sides together. Place the band around the crown part of the hat, matching raw edges. Using a zig zag or stretch stitch, or serger, and stretching hat as you sew, join the band onto the crown.
To close the top, sew four curved darts, meeting in the center. Trim excess fleece. If you want to decorate the top of your hat, cut some strips of fleece and sew a little cluster of them into the top as you work the last two darts.
Voila!