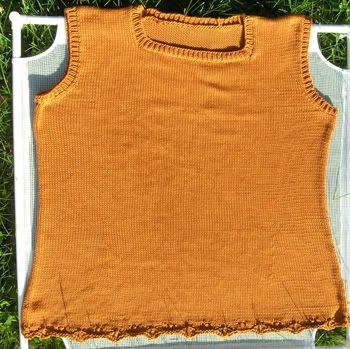 (Caution: This is the exact same post as the one in The Garter Belt Design Team Blog. You don't really have to read it twice. Unless you want to.)
Here it is, slightly damp from the dryer, finishing the process on the rack. Yep, the dryer. I ran my swatch through the washer and dryer and measured that for gauge. Any summer top of mine needs to be able to take the punishment of the routine laundry.
My top has a narrow lace border along the bottom edge and decreases toward the waist. Because my waist is tucked right under my bust, and because my belly has the permanently-pregnant look, I didn't really contour the waistline. I considered using short row darts over the bust line, but forgot to pay attention to that until after I had started the armhole decreases.
I knew I wanted a wide neckline, not too deeply scooped. I hate having to be careful not to bend over, or giving a peek show to whomever is across the table from me. I measured the space between my bra straps to get an idea of how wide my neckline could be. I also wanted to make sure my armholes were not deep enough to show bra or give a peek through from the sides. I'm pleased with how these measurements turned out.
I haven't tried it on again since the wash and dry, but in my preliminary try-on, I felt the shoulder seam area could have been narrower. If I make this pattern again, I will contour the arm shaping in a little more deeply and try for a total width of 3 inches along the shoulder seam.
I was undecided about how to trim out the armholes and neckline until the last minute. I thought about an applied i-cord edging, which I think would make a great variation. It could be either same or contrast color yarn. I thought about single-crochet, but I know many knitters fear crochet, and flat out will not consider a pattern that uses it. In the end, a narrow edging of simple 1 X 1 ribbing seemed like the best solution.
My shell is to fit my 46 inch bust and big hips. I used about 9 50 gram/100 meter skeins of Tahki Cotton Classic. Pattern should be ready by the weekend, if the Wendies are ready to go. Wendy Bernard's is the lovely red v-neck and Wendy Wonnacott is working on a blue v neck.