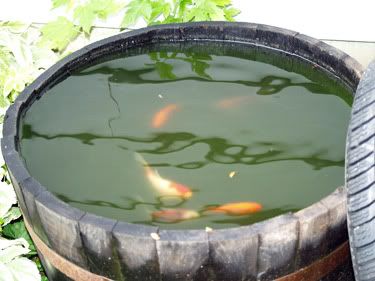 Why do people use that expression to indicate something is so easy that it's not worth respect? Let me tell you, shooting fish in a barrel is hard. This is the best shot I got! Most of the time, the fish are down deep in the dark murky water. That one day, they were circling near the top, so I shot. But really, fish in a barrel make a pretty boring picture.
Later today, I'll post updates on the nearly-done baby sweater and talk out loud to myself about what should be next.
Tomorrow, Mr. SABLE takes a quick trip to New England for job interview with a company he has always admired. That's triggering a lot of deep ambivalence from me and the kids. I would love to live near my folks, but I would hate to have to up and move 900 miles on very short notice. The cost of living is much higher there, so it would take a pretty sweet salary offer to lure us away from here. As far as I can tell, houses comparable to one we now own run about 2.5-3 times more than ours would get in the current market here. I doubt the salaries are 2.5-3 times as high. Today we have to see about getting Mr. SABLE some interview clothes. The last time he had to dress up was for the interview here about 10 years ago. He was a lot thinner then, so even though men's business shirts don't change that much over time and his are in great shape, they don't have what it takes. He's trying to decide on a jacket or not. Most of the biotech companies have a pretty lax dress code: more like college-boy-casual than business casual. Which makes dressing for an interview more confusing. I keep pushing for more formality, but one the interviewers here 10 years ago wore a t-shirt.
It's a bona-fide heat wave here. Yesterday we went to Devil's Lake for the afternoon. It was a little on the crowded side: no surprise for a sweltering Saturday. Still, we got a little space in the shade for our stuff and frolicked in the water for a couple hours. Today, after we get Mr. SABLE's wardrobe straightened out, I think he'll take the boys to see Carz. I took them while he was in Germany, so now it's his turn. A good plan for a sweltering Sunday.