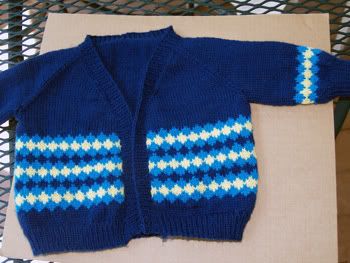 Here is the cute little sweater for my friend Annette's grandson. It took 1.5 balls of the navy Dale Baby Ull and miniscule amounts of the blue and yellow. Coordinating hat to follow. I took this photo earlier today, before blocking and buttons. The sweater is damp and drying now. The buttons I chose are fairly basic, slightly brighter yellow than the yellow yarn. The yellow yarn is slightly brighter than it appears in the photo: it tends to vanish in bright sunlight, next to the navy.
Mr. SABLE will be quite elegantly outfitted for his interview. I went over to the Lands' End store hoping to get the goods for him (he hates shopping!) and found they don't stock the tailored items from the catalogs. I did get him a nice white shirt and fun tie. Then I popped over to the Men's Wearhouse, where the delightful Tatjana told me we really need to have him there and that, yes, simple alterations could be done by tomorrow. I phoned home and narrowed down the choices to two lightweight grey worsted wool suits: one Pierre Cardin, the other ... I forgot! When Mr. SABLE arrived with the boys, he immediately chose the Pierre Cardin suit. But Tatjana is a thorough salesperson! I had to take The Little Emperor out of the store and up the plaza to Dairy Queen while the fitting was going on. When we returned, Mr. SABLE was wearing a silk mock turtleneck (for casual wear), had chosen a blue sportjacket to coordinate with the pants from the suit, had two dress shirts, two silk ties, a tie chain, a pack of 3 pairs of socks, burgundy Rockport shoes and matching burgundy belt. Also, two cedar hangers for the jackets and burgundy shoe creme. Oh, and suspenders! Whew! What an inventory. I must say, he looked very elegant and managerial in the suit. As he was trying to leave, to take the boys to see "Cars", Tatjana kept thinking of one last item she needed to ask about... . I settled the bill (you don't want to know) and he went off with the kids to find ways to stay cool in the heat wave. He's ready for whatever happens for the next decade.
So, now, thinking out loud about my next knitting projects...
I need to do a little research on where to send my concept for a print submission.
I would like to make another version of the Shell Game, a little shorter, with narrower straps, and not forget the bust darts.
I have a concept for Knitty winter issue submission, which will be a quick knit and appropriate for the gift oriented issue.
Of these three things, only one is one I can post progress pics of.
And then, if I go and lose myself in my basement lair, maybe I'll decide to do something with the Hempathy, or the yarn I got at Herrschners, or, or, or.
and then, there's always socks.