We have a silver maple in our front yard that has always been a worrisome tree. It casts a lot of shade on our house, which is nice, but it drops a lot of stuff in our gutters, which is not so nice. Also, it wasn't well-shaped when it was young and it was planted too close to the house. Silver maples are fast-growing and fairly soft. They are prone to developing pockets that trap water and lead to rot. Last night, a big intense thunderstorm came through, sometime after 2 a.m. We were already awake from the storm when we heard the crack and the thud.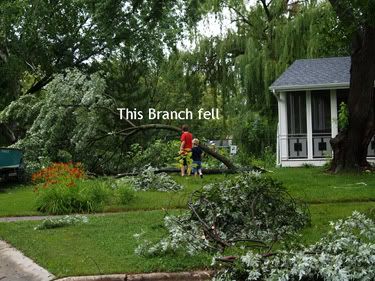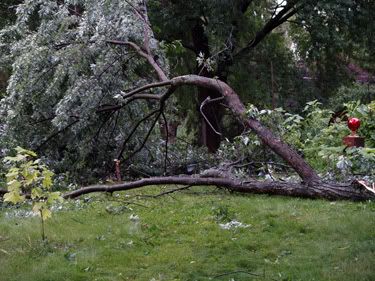 Some of the branches that snapped from the main lead were driven 8 inches into the ground. Good thing it was only foliage and lawn underneath. I got most of the smaller stuff pruned off and dragged to the curb with some help from my boys. The neighbor whose sailboat had a very close call came later with his chain saw and turned the big stuff into logs. I'm really grateful to him for that.
Here's a picture of Hailey, one of our two cats, who thought the downed limb made a great perch.
This is a photo of the cutest little girl who lives next door on the other side from the neighbor with the chainsaw.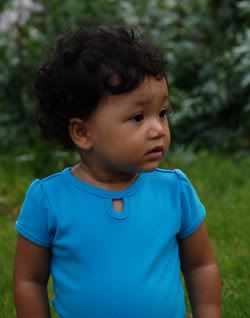 She loves watching the big kids run around. The Little Emperor says when he grows up, he's going to marry her and they will have two cars (one a punch buggy (vw beetle)) and also a motor home.
Today in the mail, I got some Dale Baby Ull in the bright blue I needed to finish the set for Annette's grandson. I was about 10 rows worth short of what I needed for the matching hat and Trillian42 from Knittyboard came to my rescue. Thanks Trillian42.