Here's my jacket, temporarily dubbed the Plum Shrug. It really is a hard color to describe, or to accurately photograph. This pic looks pretty true on my monitor, but often the camera turns it too grey and then I can't seem to restore the color without straying too far into the reds.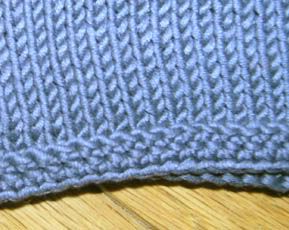 These photos show my crocheted border along the bottom edge and along one sleeve.
This will be one of my patterns available at The Garter Belt in the near future!
In other news, we went to the Great Midwest Alpaca Festival today. Boy, they sure are cute animals! I bought some llama yarn in a natural black, and was dragged away before I had a chance to get into any more stash-enhancing trouble because the kids were in crisis. For once, it wasn't our kid in crisis, but rather, the neighbor girl who we were babysitting today. Just as well, I could have gone hog-wild (or is that alpaca-wild?) in there!
One suggestion for any merchants who might attend this event or others like it: plan some kits! There were a lot of reasonably priced hand and machine made items and there was lots of fleece,roving, and yarn. But, for a knitter who wants to make a hat with color work, the cash outlay for several different skeins of color, providing enough for many hats, is enough to make one think twice. Kitted up yarn with patterns for hats or small accessories would probably sell well and increase profit.