Today the guys started digging at the roots with the goal of excavating for the next section of the path. This picture shows a 4 foot long section of root they managed to extract. It's about 5 or 6 inches in diameter. First they loosened up the soil around it as well as they could and removed what they could. Then, they went at it with an ax and a saw. I think the ax was a more effective weapon.
Below, is the picture of the Root Canal (so to speak), showing the rest of it
in situ
.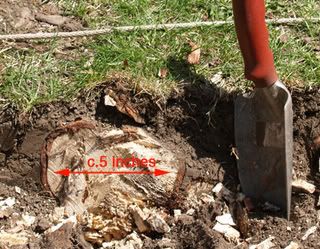 This is the biggest of the roots in the way of the path, but the hundreds of smaller ones might be more annoying in some ways.
This morning I cut the steeks for the Baby James Cardigan. I've got a couple inches of hood done now, which this picture doesn't show.
I need to find some standards for the depth of a hood for a 12 month size. I don't recall ever seeing that on the CYC Standards page. Or I could go see what measurement Debbie Bliss uses for hoods in her patterns and multiply by 60%...
I'm mulling over making the edgings along the front in dark navy or the bright blue main color. These will be very narrow, really just a pick up and a cast off, and be sewn to the zipper. If I go with navy and get a navy zipper, and put a narrow navy edging around the hood, it might look pretty spiffy. Opinions?