Today we had the kind of spring day that people all across the northern parts of the country wait all winter to experience. The birds are singing, the early flowers are blooming, the air was warm and the sky bright and clear. I hung out laundry on the line, turned a little dirt for a new flower bed, and sat on the porch and enjoyed the weather. I made the first iced tea of the season.
Here are a couple of flowers from the yard: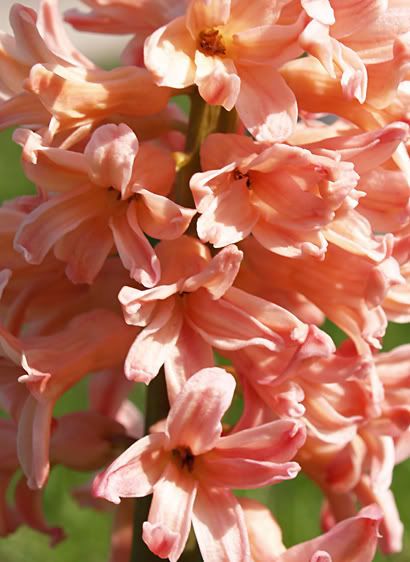 We're starting to plan the next big phase of the brick walk. This gets more challenging, because we have a giant silver maple in our front yard and it has put an extensive network of gnarly roots near the surface of our lawn. I need to ask some of my friends who know about this stuff if there's a tool that makes cutting through big roots any easier. Anyhow, in this photo, I've outlined the next phase of the path, which will bring it around to the existing front walk, such as it is.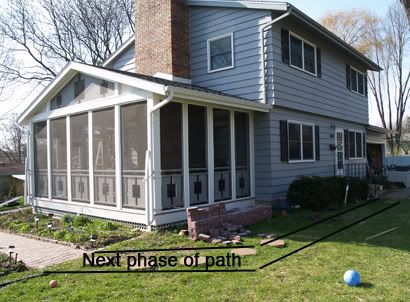 After the walk is in, we can put a big planting between the walk and the porch.
The existing concrete walk is cracked and buckled and we'll eventually find someone with a mini-hoe to come and pull it up so we can replace that section with bricks, too. Our front steps are cracked and pulling away from the house a bit, too, which is another phase of the plan we'll need to consider. Have I mentioned before that this house was a great deal because of about 30 years of deferred maintenance? Even though we've been here 10 years and have done a lot, there's still a big list of things I would do before I'd call it done. All in good time.
And finally, the progress on the Baby James sweater.
I need to go and machine stitch the steeks next. Then cut. Then pick up stitches for the hood and finish off the front. If I didn't have kids, I could have been done by now. Alas.