We are on Day 2 of The Little Emperor staying home from school sick. Wednesday after school, he told me that he hadn't felt like eating at lunch. At bedtime I thought he felt a little warm. Thursday a.m. Mr SABLE took L.E's temperature and it was 99.9 in the armpit. That translates to about 100.9 oral temp. Temperatures tend to be lowest right after waking up, so that didn't bode well. He had a very low energy day yesterday, just lying on the couch watching episodes of Curious George I had taped from PBS. And wanting me near. Today, he seems somewhat better, but I'd rather he takes another low-energy day to rest. So, nothing that required continuous thought by me got done yesterday. And he still wants constant interaction, so another day where I can't string two complex thoughts together.
Knitting News
Last night, I did manage to get the neckline and one sleeve done on my Dulaan Pullover.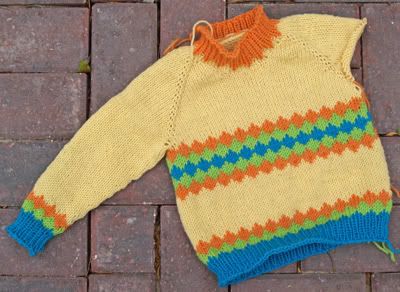 I think it'll pretty cute when it gets done. A good blocking will help some of the funny tension around the upper section, where I switched from back and forth to circular knitting and then the collar pick-up. I think I'll make a hat and mittens to coordinate.