I spent the better part of today hanging out with Emily aka
Fathom
at Lakeside Fibers.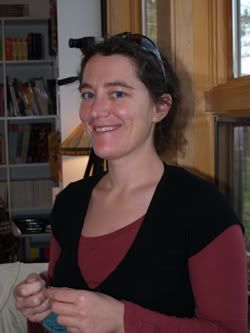 It was good to catch up a bit. Emily was the first person from online that I ever met in real life. Since then, I've gone on to fearlessly meet all sorts of other online folks, but it was kind of weird and kind of scary that first time. Now, I'm always happy when we're able to get together while she's in town.
Our Christmas cactus is a little confused about what season this is.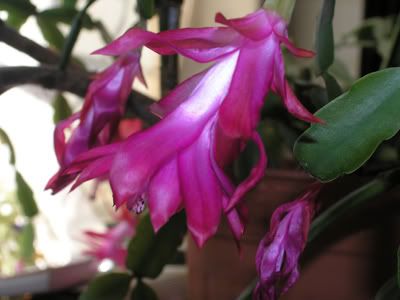 We had it out on our porch all summer and after it got indoors we realized it had set all these blooms. I had a hard time getting a good image this afternoon, but it has about 40 or 50 flowers like this one all over it.
Here are a couple of pictures I took at the Museum of Science and Industry last Friday.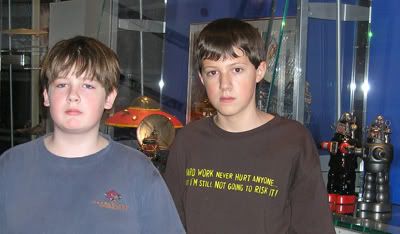 Here you see the beginning of teen-age attitude. These guys were really delightful all day, but the moment the camera was pointed at them, the attitude goes up. This might be the last year for a while that Owen will be happy to do stuff with his mother, so I'd better enjoy it while it lasts.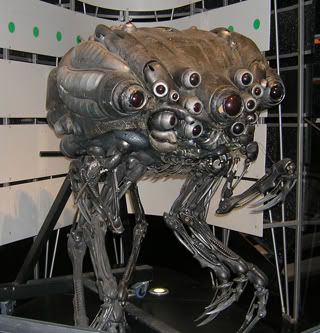 And here's a giant alien. I'm thinking of designating a large box in my lair as Area 51, where all the UFOs will go to wait for me to decide their fate. I can print a big copy of this picture and put it on the box to remind me what's inside!
I didn't take a lot of pics at MSI because I didn't think the camera I took was behaving very well. But now, having just gotten around to looking at the few pics I did take, I see it was doing better than I thought.