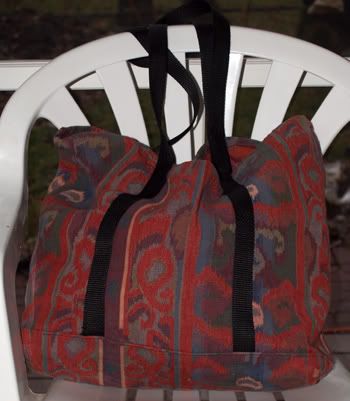 It's been a while since I did
What's In My Knitting Bag?
, so here we go...
Socks, socks, and more socks...
A pair of pseudo-Fair Isle socks from yarn I bought from Elann.com a couple years ago. This is nice yarn at a good price. I made Mr. SABLE some socks from it back when I first got it and they have held up quite well.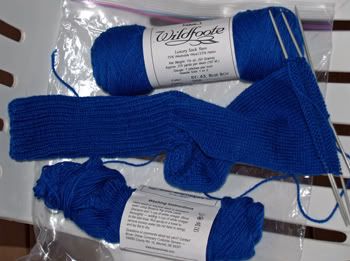 Part of one blue sock for Owen. I bought this yarn in NH last summer when I forgot to bring any knitting with me on vacation (GASP!). These have been languishing so long, they might drift into Area 51 if I'm not careful.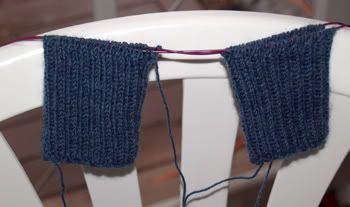 I thought I should give a try to the two socks on two circulars thing at least once in my life. I can now definitively say that I prefer double points and working one at a time. This two at a time thing feels very slow to me, and I lose more time every time I need to set up another segment, compared to my rate on double points.
Chacque a son gout
and all that. (Anyone who can tell me how to put the accents over the letters on a Mac?)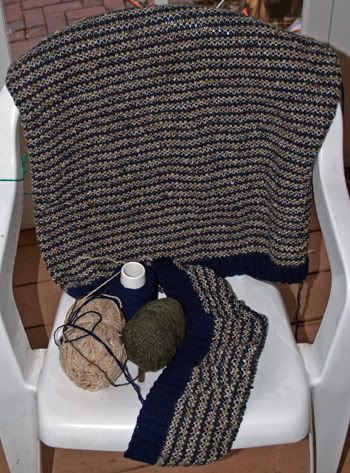 And lastly, this slip-stitch pullover which was rescued from Area 51 and is now back in active WIP status. This will be for Mr. SABLE, eventually, but it's a long-haul kind of project.
I have to say, I'm not terribly excited about any of these projects. They're all kind of bland and pedestrian as far as the knitting goes. I'm feeling the urge to start something more snazzy and compelling, but that just means these items will still be unfinished at this time next year. Better to plug along and get a few done.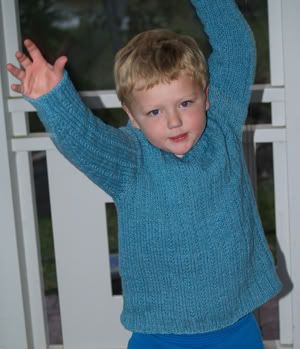 I have finally finished the pattern-writing for the Foothills Pullover, in children's sizes from 2-16. You can buy the pattern
here
.
And last but not least, today is Mr. SABLE's birthday. It got off to a bumpy start with the Little Emperor demanding a band-aid at about 5 a.m. and then demanding to get up about 6. I've got a little leg of lamb to cook for dinner, so maybe that will help his morale a bit.
Oh, and you know how I wanted just one normal school week? I'm coming to think there is no such thing. Owen came home with a migraine at noon on Monday and managed to grace the inside of my car with vomit in the four blocks between school and home. And in a few short weeks, Christmas break will be upon us. God help us all.