I found a box leaning up against my door this afternoon. My CASP 2 pal sent one last package! She had been going through a pretty rough time over the summer and working insane hours. Here's the overview: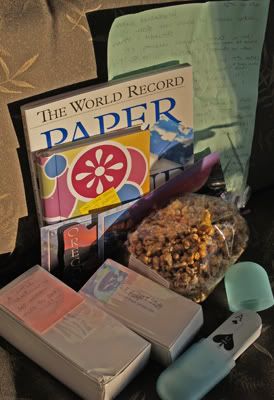 A book with paper airplanes to make and fly. (This is a good one for us. We had a previous copy, but all the good ones got used up and lost some time ago.)
A small blank book
Postcards of Oregon (gorgeous! I really need to visit there some time. It's a part of the country I've never seen in person.)
Caramel corn
Playing cards in a plastic case!
Two boxes of her fudge!!!
My husband gets brutal migraines from chocolate, so she included a safe box for him.
Thanks Monica! It's good to have a CASP who runs a fudge shop!!!
What didn't make it into the picture: the chocolate round things labeled Buzz, Buzz. Must be chocolate covered coffee beans. I think they jumped out onto the table before the photo op.
In Other News
It's a grim
day in Wisconsin.
Although we reelected our Democratic governor, Wisconsin passed a truly nasty amendment to the state constitution. I'm ashamed for my adopted state.
Knitting News
I did virtuously work on the Foothills pattern for several hours today. I got over the psychological hump of working through some tedious details and number crunching and now it's just a matter of tidying up and proof-reading.