So, today I turn 45 years old. Hard to believe.
The Little Emperor pretty much shook his illness off by Friday afternoon. Today, he's back in school, where I did my regular Monday morning volunteer stint. I came home from that and found a dozen red roses on the dining room table and Mr. SABLE had baked a cake. What a sweetie.
Last night I made a hat to go with the Dulaan sweater, which I finished yesterday afternoon. I think I'll do some matching mittens, too, since I'm on a roll.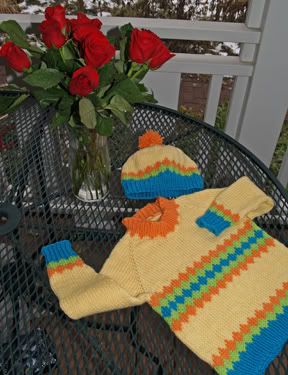 Now I need some coffee before I reach my cut-off time. (wandering off toward the kitchen, empty mug in hand...)