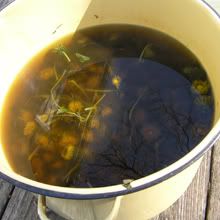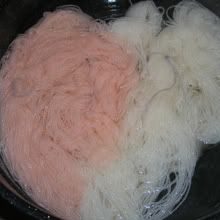 I picked a mass of dandelions in my yard today: about half-filled a 12 qt pot. Covered with water and brought to a simmer for a while, stirring occasionally. I parked that pan outside on the patio to cool a bit.
Then found some ancient (1940's?) yarn in the stash to dye. Two 1 oz balls of white "Jumper Floss", a shetlandy-kind of wool, and a 2 oz hank of of some pinkish baby wool. One thing I remember hearing years ago was that mothproofing can interfere with natural dyes. These didn't say "mothproof" on the label. Also, I got them at thrift shops for small change, which is good when one is experimenting!
In my other dyepot, I prepared the mordant: I used about a Tbsp each of kitchen alum and cream of tartar. Brought the hanks of yarn to a gentle simmer and went off and forgot them. Came back later to a rolling boil. Oh well. The yarn seemed fine.
I poured off the mordant and rinsed the yarn in hot water and put it back in the pot. I went out and got my dandelion solution. Strained out the dandelions and put the liquid in with the yarn. I slowly simmered the yarn in the dye bath, then allowed to cool in the water outdoors for a couple hours more. Interestingly, the dandelion dyebath smelled like artichokes. The white turned a nice yellow and the pink turned a darker yellow. I'm pretty pleased with the way these turned out. I wasn't sure I would get an intense enough color saturation, but I think I did. Now I'm eager to try other natural dyes that take with non-toxic mordants. Next week, it's dandelion roots, which I'm told make purple!