Regular readers will remember
back in the fall
when
Sarah
sent me lovely hank of handspun alpaca yarn. I hemmed and hawed about how to best use this precious gift. Finally I decided this yarn wants to be a very simple lace scarf:
Just a zig zag of eyelets running the length of it, with a seed stitch border. But, Mead looks so happy, doesn't she? (Sarah named the yarn Mead and dubbed her a "she," so I'm just going with it.) The scarf-to-be is scrunched on the needles a bit, but I tugged out the stitches for a look, and I think it's the perfect choice.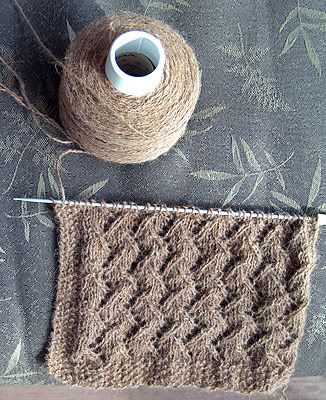 In other project news, I'm about half-way done the second Komi Mitten:
These are great fun and I'm definitely planning to make more of them. If I start now and just keep making mittens as time allows, I'll probably have enough to distribute to all my family next winter. Meaning, my parents, my brother and his wife, my sister and her husband, and maybe some of the in-laws, too.