Thanks to all for the well-wishes for my family. Owen ended up only staying home one day. I guess he had flu-lite, too. So far, The Little Emperor is unscathed. I still think I have a low-level sinus thing going on, but nothing too debilitating.
I am only a couple rows away from being done with the body on the Shetland Sweater, aka The
Andrew Morrison
Honorary Cardigan. My left hand was threatening mutiny the other night when I thought I could push on through. Having stared in the face the prospect of losing knitting for life, I know that I can't ignore those warning signs. As it is, ibuprofen is practically a food group for me.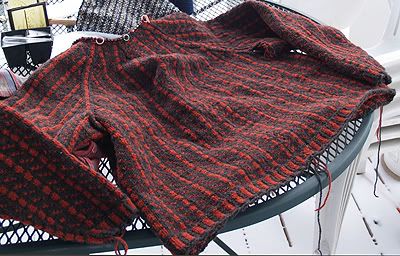 So, here it is, just a couple rows shy of being ready to cut the steek.
Here's a detail shot of the neckline area. I've made a shallow v-neck, rather than rounded neckline, where the collar will attach, which makes the whole thing look a little strange right now. Like there's shaping for a single mono-boob up high on the chest. Have no fear, after I cut the steek it will all be fine.
So, I was loafing about getting kind of depressed with the weather and feeling like I should do something productive with all those hours when the kids are at school and not really having a focus. I just felt like napping all day every day this past week.
And while puttering in my lair, stumbled on the Yarn from the Barn I bought last spring at Rainbow Fleece Farm. (They don't seem to have a website, or I'd link it.) I still hadn't done anything with that yarn. I got out
Mostly Mittens
(I just noticed the shocking price on that book when I looked on Amazon for the link! I think I got mine for about $15 on Overstock.com a couple years ago!)and picked a chart. Then dug out the white sport weight vintage yarn to pair with this dark red Yarn From The Barn.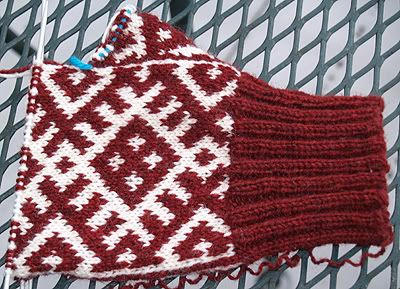 Although this is coming out a bit large, it'll work for a pair of mittens for Mr. SABLE. These mittens are a perfect little antidote-for-what-ails-you kind of project: detailed, visually grabbing, fun. They're the kind of project that impresses non-knitters and those who don't yet do two-color knitting, but in fact, the pattern is very repetitive and not overly difficult. And the gauge is different enough that it gives my hands a break from the AMHC.
Cindy G over at
Baxter Knits
has been exploring slip stitches with the intent to make a little tutorial on their wonderous uses. Regular readers have seen this before: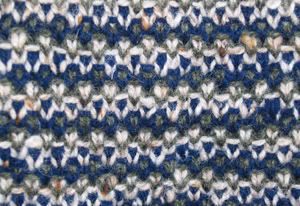 It's a detail shot of my long-standing WIP, Scott's Tweedy Sweater. The magic of slip stitches allowed me to finally use a yarn that defied every other use I tried to find for it. The beigey-brown yarn with dark brown and gold flecks came in a big batch of shetland-style yarns I bought around 1990. It would not settle in to any Fair Isle pattern. It looked ugly on its own. I kept thinking I would find a way to use this yarn (see why I have a stash problem???) and finally, I did.
Finally, here's an image from my porch, looking out toward the backyard:
I bet if I put on my boots and went wading out in the snow, I could find some cool shadows and dead plants to photograph. But somehow, I just can't seem to leave the comfort of my couch these days.