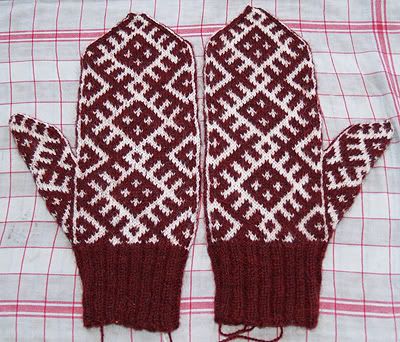 Here are the Komi Mittens, wet and laying out on an old dishtowel on the porch. Do you think I have a problem with delayed gratification? Yeah, I haven't darned in my ends yet either.
For people who read this kind of stuff, I'm including the technical details.
Pattern:
Mitten #23 in Mostly Mittens, by Charlene Schurch; Large size.
Yarn:
Red, Yarn From the Barn, Sport wt, from Rainbow Fleece Farm, New Glarus, WI.
White, Columbia Minerva Fingering wt worsted wool, vintage yarn from the stash.
Needles:
US #2 double points, Ribbing in US #0 double points.
Notes and Modifications:
I just launched into the larger size without a swatch. When I make the next pair, I'll make the smaller size, or use smaller needles. These will fit Mr. SABLE. My back-up plan was to felt them slightly if needed to make them fit someone. I didn't alter the pattern one bit, other than using different yarn than shown. These are really fun mittens to make. The patterns are simpler than they look. I plan to make more.
In Other News
We had an interesting time last night. About 11 p.m., just as I was drifting off to sleep, Owen came into our room to tell us that he was shivering and couldn't stop. I took him back to his room and covered him with more blankets, and realized there wasn't much more I could do for him. Like a bad mom, I went back to my own bed and tried to get back to that delicious state of just drifting off that I had been yanked from. Mr. SABLE had opened the window a bit, as it was the first warm day of the season. As I was lying there, I thought I smelled something
off
. I have a terrible sense of smell, so I asked Mr. SABLE if he smelled a skunk. He snorted and muttered no. About ten seconds later, he said, "Ewww, I
do
smell a skunk!" and slammed the window shut. We still smelled it, but not as overwhelmingly. Now I had two worries. First Owen and his fever/chill and then, realizing one of our cats had not come in for the night. And he was out there with a skunk. I checked back on Owen about 11:30 and he was less shivery, but starting to feel hot to the touch. Then I went to bed and slept until the alarm went off at 6:50. (Have I mentioned how much I hate the time change? Getting up in the dark? Again.)
I let Owen sleep, called the school to let them know he wouldn't be coming, and asked Mr. SABLE to check for the cat. Thank goodness, the cat smelled just like his normal self. And thank goodness there was no lingering whiffiness in the yard, because I surely believed that skunk had sprayed right outside my window. We had skunk action last spring. They were fishing for koi in the garden pond. I hope they aren't actually living on our property. I really don't want to find a family burrowed in the lilacs or worse, under the porch!
So, Owen's home sick today. And if I had to choose between my children, I'd rather have a sick day with Owen than the Little Emperor any day. He's far more self-sufficient.
A note about Last Saturday Knitting
We are taking a trip to San Diego for spring break, so I won't be at Last Saturday Knitting this month either. I've had more days away than there lately, it seems. Sorry. But I really really really will try to be there, as scheduled, for April.