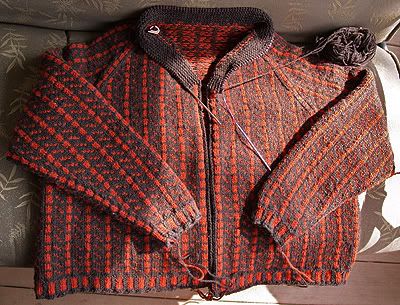 After giving my hands a break and working on fine gauge stuff for a few weeks, I was ready to come back to the Andrew Morrison Honorary Cardigan, aka Shetland Sweater, yesterday. I need to work a few more inches of garter stitch on the collar, sew up a few things, like the underarms, and give it a wash before I install the zippper. I want to wash it before the zipper because I know from my swatch that this yarn blooms a lot, and I don't want it puckering or pulling when it changes gauge.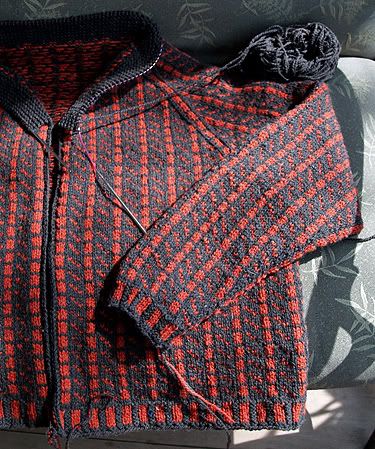 I did a quick try-on this morning and I'm excited to see it all come together. No, I didn't get a picture of the try-on because I was still in my dissheveled state: unbrushed, ungroomed, in p.j.s, etc. And I was home alone, so it would have meant setting up the tripod and messing with the auto-timer. (Note to self: buy a remote control for the camera.)
Today's weather is warm and humid. What a pleasant change from a few weeks ago. Bulbs are coming up, the grass is greening up, most of the snow is gone. A few days ago I was trying to get some pics of last year's flowers, but didn't really succeed. This sunflower was the best I got. (Click it for a bigger version.)
On Thursday I got a call from my dad. His mother died that morning. It's not the kind of devastating loss that makes ordinary life grind to a halt. She was very old. She had always been a difficult person. She particularly never liked my mother and never cared for me. Well, eventually I think she liked me some, but only after I produced two adorable baby boy grandchildren. As it turns out, my husband has a very important work trip scheduled for the coming week, so if I tried to go to the funeral, I'd be taking my kids out of school and driving at least 5 hours each way with them. And they're prone to car sickness. And they fight a lot. And, they act out worse than usual when in a situation with a lot of new people when they are expected to behave well. So, my folks and I decided that I'll stay home.
Several years ago I noticed that my grandmother's clothes were all getting really ratty and dingy. She had a lot of money, but was a tightwad and as shopping became too hard for her, she just didn't do it. I had some magenta knit fabric and sewed her a jacket and pants that were cheerful, clean, and easy care. My parents told me that she wanted to be buried in that outfit. She wore it to all her functions (art shows, cocktails with friends, etc.) and bragged to all who would listen that I had made it. So, maybe by the end, she didn't dislike me as much as she had in my youth.
Fritzi Morrison