While I was sewing in the zipper and darning in ends last night, I was trying to come up with a name for this cardigan.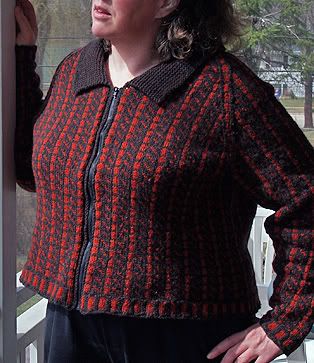 As a work in progress, I've called it The Shetland Sweater and The Andrew Morrison Honorary Cardigan. This is because I found the original inspiration in a sweater worn by a man named
Andrew Morrison
, photographed on a mink farm in the Shetland Islands in the early 1960s. The photo was in the
online archive
of the Shetland Museum. It was the first image listed in a search of their archives for my surname.
So, while I sat there sewing and darning, I tried to come up with something that was less of a mouthful than Andrew Morrison Honorary Cardigan, or even AMHC, which is a bit cryptic. Because, not everyone cares about the story, you know?
And I've been working on the Mead Scarf from the lovely handspun alpaca I received from Sarah aka Teleknitter. And her last name is Morgan.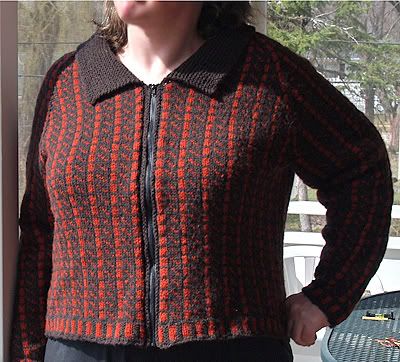 So, I like that Morgan is one of those names that can be for a boy or a girl or a last name. And there are Morgan horses, too, and maybe someone going riding on a gorgeous fall day will want a zippered cardigan.
Unfortunately, Mr. SABLE left on a business trip this morning, so I had to do my own pics with the self timer. It's always a challenge. And usually I have this funny, half-expectant, half bewildered look on my face, wondering if and when the camera will click. So, I edited off my head.
Details
Harrisville Highland Yarn. This yarn feels like steel wool at first, but softens up considerably when washed. I wanted a yarn with a rustic, hairy quality.
Needles: US size 5 and 7 Options circulars.
Pattern: My own, pending.
Note: separating zippers only come in a limited range of colors (maybe more online, but I was shopping locally), so choose your yarn colors with those limits in mind. I ended up with a black zipper, when I would have preferred very dark brown. Nothing else was remotely right.