More of the same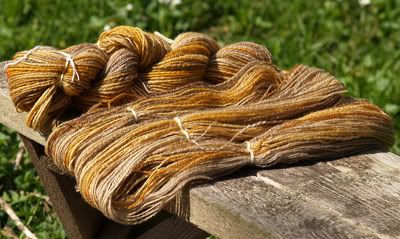 The Blue Faced Leicester from Sandy's Palette continues. I'm really really really loving the results I'm getting. Two 70 gram skeins so far, the first has about 205 yards; the second, about 220. This makes a nice sport weight kind of yarn. I'm a bit over half way through the batch.
More of the same, again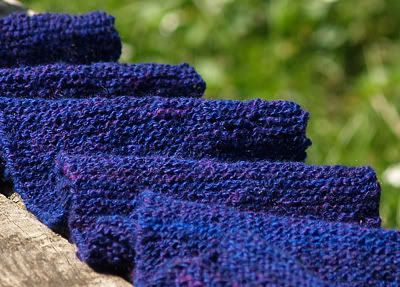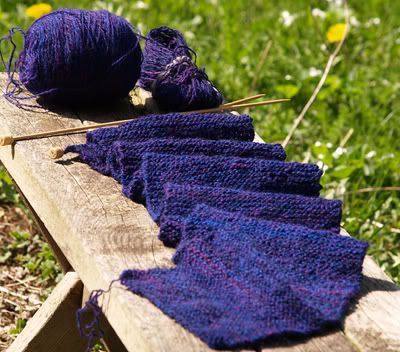 The basic garter stitch scarf from early handspun. It's about 45 inches long at this point. I think I'll be able to make a smallish hat out of the same yarn when the scarf is a good length. Either that, or keep on with the scarf until ridiculous proportions, a là Tom Baker/Dr. Who. Well, not quite. Getting a 20 ft scarf out of 7 ounces of fingering weight yarn would be a feat worthy of the TARDIS, which I don't possess.
A Problem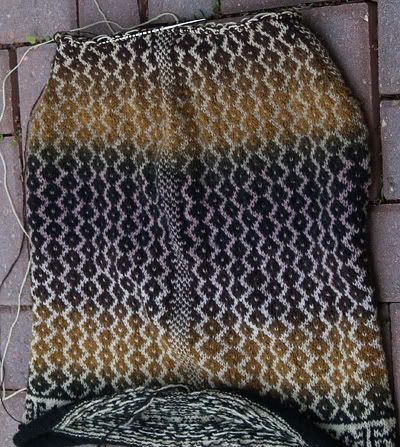 I'm cruising along last night, thinking I'm making such great progress. And I count stitches on one half of the front, to see how many more neckline decreases until the shoulder.
Hmm, seems a bit off.
Count the other side.
Uh Oh! I have a couple extra repeats of the design on one side than the other. Which means I've placed one of the steeks for the armholes in the wrong place.
Having pondered the Fix-It options, I know I have to frog.
I think I'll just let that project be for a few days. The weather is nice. The weeds are over-taking all the flowerbeds. The lawn is getting long. More baby buckthorns are springing up under shrubs. (I do like the thrill of pulling the small ones. It's nice knowing that's one less pain-in-the-butt weed tree in the world.)
And my family needs me to go to the supermarket today.
Here are two recent pictures of my cats enjoying the spring!