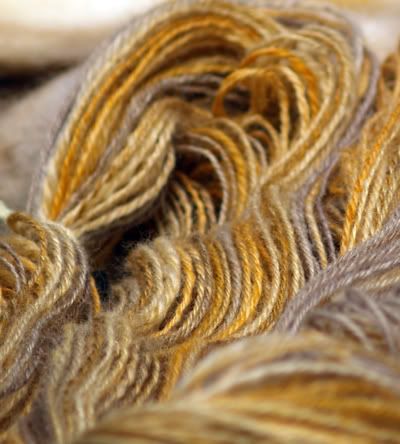 Blue-face Leicester from Sandy's Palette
I spun it fine and Navajo-plied.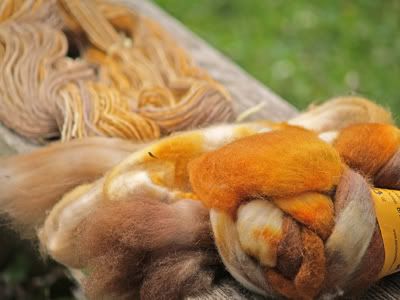 I'm excited because this is my first real effort at Navajo-plying. While spinning the singles for this, I knew I wanted to keep the color areas separate for long runs, rather than barber pole them in a two- or three-ply. One previous attempt at Navajo plying resulted in a tangled mess. Then I did a small test run a few months back with some fiber I didn't really care if I messed up, just to get the hang of it.
And now, I've managed to make the yarn I want from the fiber, actually planning how I would get what I want.
I think I'm a spinner now.
So, for Molly Bee's benefit, I'll offer up what I learned.
1. It helps to grow an extra hand or two.
2. Try to keep everything under a bit of tension. I did get a few little blips when I relaxed my tension on the singles coming off the bobbin. I call them dingleberries, which I know is something really yucky, but whatever. (Those ugly little tags where the singles want to take a detour and ply with themselves, instead of merging with their intended mate(s).)
3. Don't try to take the biggest loop you can at first.
4. Use a nice slow ratio and treadle slowly, to give yourself a lot of time before it gets too much twist.
I'm very pleased with how this is looking. This is about a third of the fiber I bought in this batch. I'll get more specifics when I've washed, hung dry, etc. Oh, and spun the rest of the batch.