The Kauni Comeback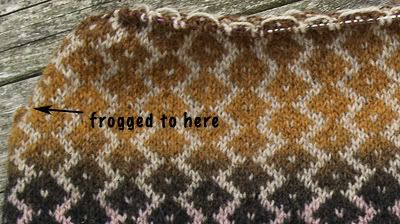 I haven't given this a lot of attention lately, so little to show you.
As you've probably noticed, I've been working on getting my patterns reformatted and available through the blog. Sorry to dump so much on at once, but the end is in sight. I have a couple more old patterns to get up here and then I'll be focusing on new stuff.
The Next Spinning Project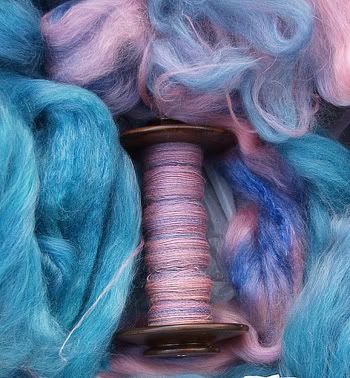 This merino/tencel fiber was very densely compacted. I was a little dismayed when I took the band off the bundle and started tugging at it a bit. It took real muscle to get it to budge. I worked my way down the entire rope of roving predrafting, breaking it a few times because I needed so much force to get it to loosen that it was hard to control when it began to slide apart. Under the pink stuff on the bobbin is a lot of the blue. I think I'll make a nice fine two ply out of it.
Playing with ideas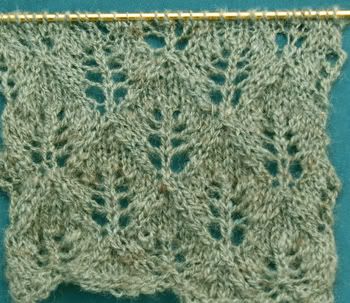 Here's little idea for what to do with the Mossy Merino. I have enough of this to make a rather substantial shawl kind of thing. Trouble is, I'm just not the shawl type. I can't see myself putting in all that effort just for the art of it, when I know it'll never see any action in my life. Hmmm.
Acquisitions
I went on a mini thrift shop crawl today. I have a plan for something crafty, not knitting, that I'll have to wait to reveal, and it needed Cheap-A$$ supplies as can be best had from thrift shops. One of our local St. Vincent's shops has a pattern file cabinet with three large drawers full of patterns. They are completely unsorted by size, type of garment, or anything. I went through all of them and found these six which I thought maybe I can use. Total cost for the six: 60 cents!
I'm working on a big new plan, which is pretty exciting for me. I'll let you know more about that next week.