Lots of photos in this post.
First, here's all the Caramel Yarn I made from sectioning off the brown roving in the mixed browns batch of Brown Sheep mill ends:
I might still be able to split off another couple bobbins' worth, which would be nice. I'm guessing this will knit up somewhere around DK/Worsted wt, comfortable on size 7-ish needles.
Next up, I took some of this so-called "mixed blacks" Brown Sheep roving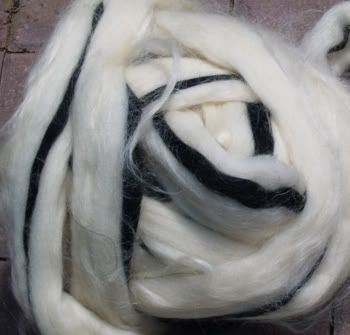 and gave it a simmering bath of grape kool-aid. It was a weak solution for the volume of wool. I got this result when I unbraided the roving: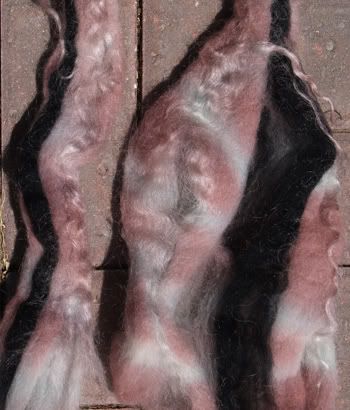 It came
this close
to felting. I can still pull the fibers apart and spin them, though.
Here are the first of the singles from that:
I would like to card this to spread the mohair more evenly through the wool and reduce the manual prep time. (Drum carder is supposed to come today or tomorrow! Wahoo!)
This is a bobbin with singles from some of the black and white that was left when I peeled off the brown:
I think this will look better when plied and skeined that it does in this picture.
And finally, the spinning story of the week. A
fellow Knittyhead
forwarded me a Craigslist ad for someone near Madison with a lot of fiber to sell. It was a sad situation, as someone was forced by circumstance to clear out all her fiber and supplies, but worked out really well for me. My friend Fern and I went there the other night and bought it all for a song. We squeezed it into Fern's Prius and drove it home to her house. We'll split it up this weekend and I'll get pictures of the mountain then. Remember those yarn ads a few years ago, with a VW Beetle full of yarn? It was kind of like that, only fiber in a Prius.
That night I brought just this small bit home with me: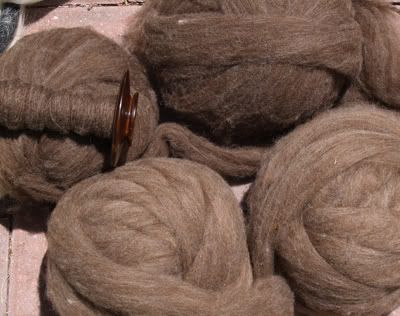 Four balls of Merino/Romney cross.
Here's my first attempt with that:
It seems to want to be spun very fine.
Now, I think I need more bobbins! Three different singles, one on each of the three bobbins I own.
And, lastly, here's a pumpkin flower on Owen's vine: