In order to keep my knitting balanced, I like to have some very easy, very portable projects going while I'm working on something that requires more attention.
The current easy portable projects are some Regia socks and a solid, stockinette st vest from my handspun.
When you think your spinning is getting pretty good, there's nothing like knitting with it to show you all its faults. I'll still love the vest this fall when the weather cools off.
I did make a bit more progress on the Fair Isle in the last few days: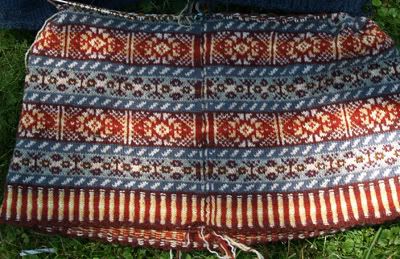 When I give it the time and attention, it goes pretty quickly. Thanks for all the compliments on the last post. Since you asked about how I choose colors for a complex project, I'll ramble a bit on that topic.
First of all, as you probably know, I have a ridiculously large stash. So when I get in mind to make a new fair isle color scheme, I start with the yarn I already own and see what happens. If I'm knitting for myself, I usually want to choose colors from the warmer tones. I have very pink undertones in my skin and tend to look like a flushed inebriate if I choose the wrong undertones. So, even the blues and greens I like tend to have a warm cast to them. Sometimes I'll want to work with a particular color or group of colors and need to audition some others to round out the palette. This is where it gets interesting. Sometimes the color I was trying to build a garment around gets eliminated from the line-up. Sometimes a group I think look smashing together in the balls or hanks just don't work in little knitted stitches. I personally tend to be happier with a color scheme when there's something that fights a little bit in it. Not so much as an outright clash, but something that gives it a bit of spark. Which means that even though I think an understanding of color theory is helpful, ultimately it's about choosing what works for you and going with it. After all, when you look around at the natural world, you find any and all colors existing near one another and some of those random collisions of color don't "go" at all, but are a joy to behold. Check my archives for October 2006 for some old posts about choosing colors.
Here's a day lily from the yard: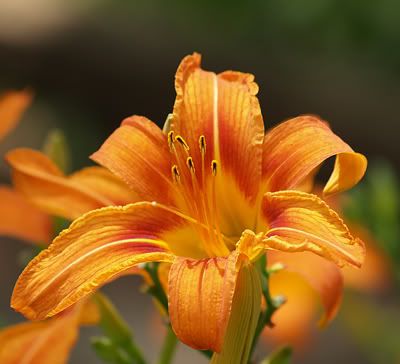 Finally, Owen got a hamster yesterday. See her picture
here.
Her name is
Susie
Suzy.