By last night, the fever had mostly passed, though a lower-grade fever returned today. The muscle aches moved on today and most of my energy returned. I don't know what it was. Flu lite? I'm glad it was only a short little ailment.
Today I managed to stay awake while the kids were at school, pay a few bills, a little laundry, and knit a bit.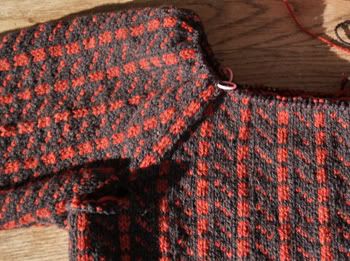 Here's the raglan seam line of the Andrew Morrison Honorary Cardigan. I haven't done much on it for several days. And this will probably be a slow knitting week for me. My book group meets on Sunday afternoon and I have to finish reading
The Sparrow
before then. I'm not a fast reader, so I need to give enough time to the book at the expense of knitting.
Here's an image from my snowy backyard this afternoon.
It gets bigger if you click on it.