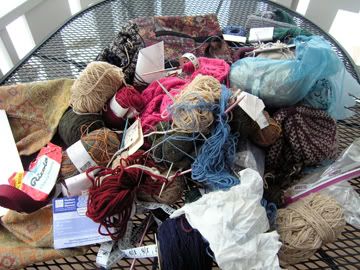 I dumped my knitting bags out for a little look. It had been a while since I straightened things up, untangled my projects, took stock. Yikes. I think I need to buy a box of ziplocks! Rest assured, when I put it all back, things were in better order than they started out. In the full size version of this photo (which you don't get to see), one can pick out several dormant projects, which will be back on active status, once the priorities are dealt with.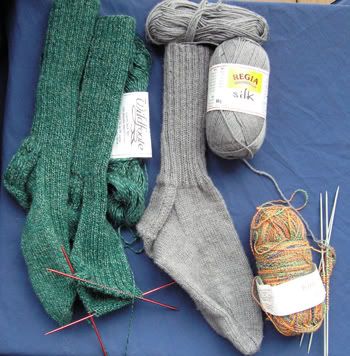 Here are some current sock projects. The green Wildfoote ones are for me. Nearly done, but on hold while other projects take priority. Then there is one grey sock from the Regia Silk. Have I mentioned how much I
love
this yarn? These socks will be for my dad's birthday later this month. Next, a little teeny bit of a sock from some KnitPicks cotton sock yarn that
Terby
destashed on me a couple months ago. She said she just wasn't happy with it, no matter what she tried. Maybe I'll have better luck?
This is a sample of the Mystery Project for release around April 1. Tune in for more details later.