Yesterday I had a few hours without my children and went to the Digger's Outlet, a real bottom-feeder kind of thrift shop. This is where St. Vincent's sends all the stuff that didn't sell in the regular stores before giving up on it. From here, the clothes get baled and sent for recycling or possibly overseas. The books get pulped and, as a former used bookseller, I'm telling you that most of them deserve it. Everything is sold by the pound. Clothes are $1 a pound. Books are a quarter a pound. Household stuff, 50 cents/pound. There's often okay furniture there, sometimes better stuff than they put in their stores.
Ostensibly, my mission was to find wicker for our porch. Or rattan. I'm not too particular. But of course, I had to paw through the bins of clothes a bit. I came away with three sweaters to recycle and a pair of shorts for my husband. Total with tax $1.88.
Here is the first sweater: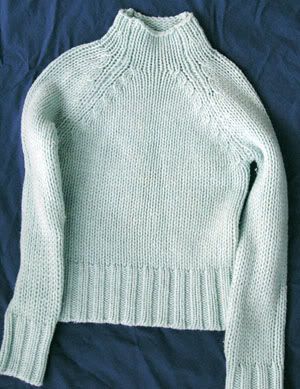 A bulky knit, very soft wool, 5 stitches/2 inches. Pale seafoam blue-green. It isn't a color I can wear, but the yarn was cuddly. The sweater was a little dingy.
I frogged it last night and today. The yarn was actually two strands of light worsted/DK weight yarn. Here's some of it after a little wash: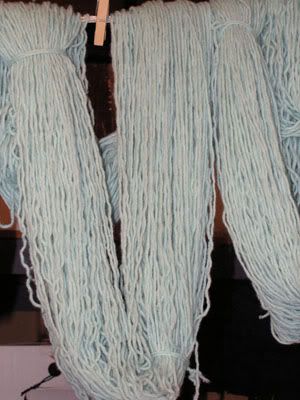 I started thinking that I wanted to dye this yarn. I've never used real acid dyes, like the professionals use. I've used Rit and Koolaid and had fun. I wanted to get a nice range of rich greens and blues, but Kool aid doesn't produce that. Then remembered the Wilton's Cake Decorating Food Coloring options. After dinner, I went on a mission and came home with Royal Blue, Juniper Green, and Moss Green.
My assistant and I soaked the yarn in vinegar and water. I put a little water in my big thrift shop enamel pot and set it on the stove to heat. We put two of the large hanks, half the total yarn, in a glass pan to contain the mess. I had squeezed out excess water/vinegar. Then, we made a solution of water and Royal blue coloring and poured that over the yarn in stripes. Then, we did the same with the Juniper Green. An interesting thing happened! The Juniper green separated as it sat on the yarn and we got a muddy reddish color from it in places.
Here's some yarn before steaming to set:
Then I used some tongs and put the damp and striped yarn into the steaming pot and simmered gently while we colored the other two big hanks, sort of the same.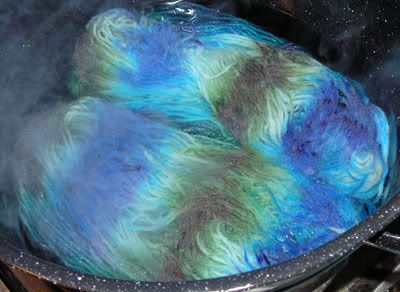 I spun out the excess water in my washing machine and here's the yarn drying on the line in the basement: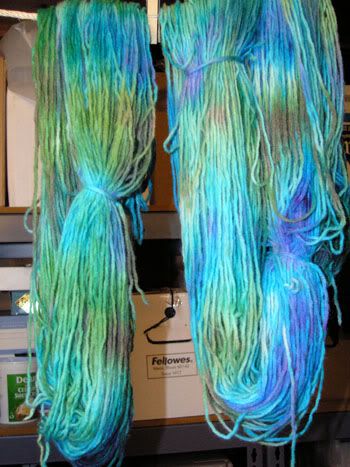 Tomorrow, I hope to get some nice artistic shots in natural light. But I'm pretty happy with the results. What my assistant and I found particularly interesting was the range of colors we got from just those two food colors. There's a vivid purple, a bright turquoise, some muddy browns, nice blues and greens. Who would have thought?