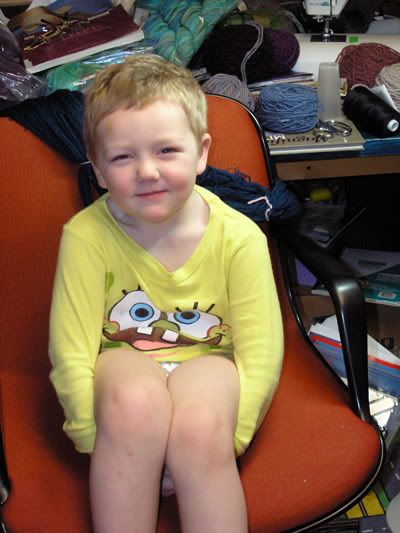 Today The Little Emperor and I earnestly began photographing stash for this year's Flash Your Stash Along. I know that these photos are more like mug shots than carefully crafted artistic portraits. Let's just say with a stash this out of control, I'm tempted to not even try! I recently listened to
Franklin's
essay on Cast On about why one should fear one's stash, so I guess now I'm nervous about going down there. Still, nothing bad happened. Yet.
I decided to start assembling a draft of the blog post, so that I'm not scrambling at the last minute on March 31. This year, I am posting pics right in the blog, instead of linking to the album, so be forewarned: April 1 will be a very photo-intense post. Get your internet service upgraded if you don't want to be waiting all day. I'm trying to keep the pictures fairly small, but with enough detail.
In other news
The Mystery Object is nearly done. My dad's socks have been idled while I prioritized the Mystery Object. Stirring up all that yarn stash always leads to lots of fresh knitting ideas. The difficulty is focusing enough on one of them to make it happen, instead of getting lost in the world of possibilities.
My book group is reading Mary Doria Russell's A Thread of Grace. I just started last night, but I expect it to be a fascinating read. Her prose is exquisite! More on that later. I'm a woefully slow reader, so I'll need to give the book a lot of hours this week, and probably will not post much.