Did you ever live in a small safe city where they didn't have enough news to fill the 11 (or 10 CST) p.m. broadcast? We used to love to laugh at the news in upstate NY. We had our pick of Syracuse or Binghamton and both gave us many Onion-esque lead stories. Once the Syracuse station had a live reporter interviewing folks at a NY Thruway rest stop and verifying that (GASP!) people were speeding on the Thruway! One great story that baffled us, "Syracuse loses, no riot." The reporter on the scene was in an area adjacent to the University reporting that the streets were empty and there was nothing going on.
That's kind of what it feels like Chez SABLE lately. At least on the knitting front. Ok, there was Last Saturday Knitting this past weekend. And we had a new face.
I finished my mystery project.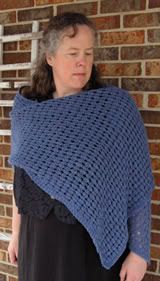 More about that in a few days.
I'm almost done with my Dad's birthday socks. His birthday was yesterday, and I told him the gift would get mailed in the next few days. We're all pretty casual about timing the arrival of birthday presents in my family. And we called and sang Happy Birthday loudly and off-key.
I did finish reading A Thread of Grace, but not before the book group. I highly recommend this book. In a nutshell, it's about Italian and other Jewish refugees resisting the Nazi occupation in northwestern Italy from 1943 until the end of the war in Europe.
I think I'll be ready to flash some stash on April 1. Certainly, not a comprehensive inventory, but it'll give you all an idea of just how sick I really am.
I should make some rapid progress on a few dormant WIPs in the next couple weeks. I'm also trying to get a quick submission done for a deadline on April 15.
Patience is a virtue.