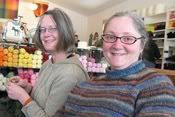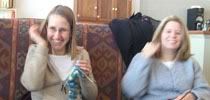 A little photo collage of some slightly blurry pictures. Word to the wise, if you share a camera with your significant other, check the settings before you take pictures. I tend to assume that everything will be in the automatic mode and forget that he likes to turn off the flash and such.
Top row: Bina; Bina, JennyZ, and Yarnit; Dancing Gardener and Kathrows
Bottom row: JennyZ and Yarnit; Dancing Gardener and Kathrows
I was bummed that I had to leave early. My husband had an all-day meeting of his train module hobby group (don't ask) and I asked him to give me a couple of hours mid-afternoon to see everyone. I hope we can all do it again soon. Dancing Gardener and Kathrows each had to drive a piece to make it. Not to mention, Bina coming around Lake Michigan.
Funny moment: while Bina was discussing her medical care and options, which gets into Female Troubles, I noticed Jenny and Yarnit having a strange side conversation and looking embarrassed. I finally asked them if they felt the conversation was too personal for a crowded coffee shop. No, it wasn't that. They suggested that I look behind me and there was a couple engaged in a long, passionate kiss, standing up, right there in a packed coffee and yarn shop. It went on and on and on and on. Now, that's something you don't see every day!
Terby had to miss the meet-up, due to illness. Next time!
At one point, a woman walked up and asked if we were the Knittyboard meetup. "Yes!" we answered. "Oh," she said, "I'm a lurker." And then she walked away. A lurker on the board and in real life. Too funny.