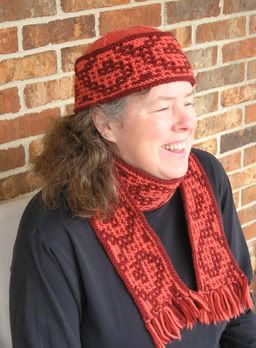 I finally got the Swirl Hat pattern written up and sent to Wendy to put up at
TGB
. It should be up by this evening. I wasn't entirely happy with my photos, but just want to move it along. Maybe I'll redo pics some other day.
I've been moving along on the textured pullover from
Valley Yarns (aka WEBS) Donegal
. Remember, the dainty-size cone? Last night I came up with a name. I was sitting there knitting my sleeve and mulling it over. A name for a piece of knitting has to do a lot. It's really a marketing tool. It has to suit the style of the garment and suggest a lifestyle or attitude. Successful marketing has to make buyers think that they will attain that ideal if they, too, wear that garment. I'm not a natural born promoter, but I'm trying to think that way. So, this particular sweater seems kind of outdoorsy to me. I looked for names of places in northern Wisconsin, but most of them just wouldn't work. I'd feel funny appropriating a Native American place name, and many of the places up there have names based on Native American words. A lot of the good east coast outdoorsy words have been used by places like LL Bean: big companies with big lawyers. I sat there knitting and thinking, saying in my head, Campfire Pullover. Sounds like Campfire Girls. Are they still around? Door County Pullover? Too touristy. Copper Harbor? Madeline Island? Then I started thinking about my student days in Chicago. Aha. Hyde Park Pullover. Forget the outdoorsy thing. When I was a student without a car in the Windy City, I used to have some funny ways of staying warm. I had many sweaters and some thrift-shop wool overcoats. I would layer all the sweaters (usually three at a time over a shirt), put on the overcoat, and then wrap a couple of scarves around my head, babushka-style. When I got indoors, I had to do an elaborate strip-tease which my friends found amusing. I emerged from this wooly cocoon half the size I had appeared before. Still, there were times when that Chicago wind could cut through all those layers. One of the sweaters was a plain olive drab turtleneck that my maternal grandmother had made for my brother in his early teens. It fit him for about 2 months. I loved that sweater and wore it with some purple pants I bought in Rome and some big funky beads. It vanished before I moved on from Hyde Park, and I never could figure out exactly when or where. You know how some garments just do that? Some clothes, you know when you gave it away. Or when it turned to rags. But some just kind of vanish. This new sweater will fill a similar niche in my life. Not too baggy, not too tight. Comfy for every day. Never really "In" and never really "Out". And it's nearly done. I've bumped it up to Priority status in the queue, so it should be done soon. If it seems like it's been a slow knit, it's only because I haven't given it the focused attention I should have. In the months since I started it I've made several hats, several mittens, a scarf, a Gioia, progress on a long-term sweater, and a whole lot of dinners. Also, survived Christmas vacation with too much time with my darling husband and kids, washed about 84 loads of laundry, and went to the supermarket about 30 times. So, the Hyde Park Pullover will be along soon. If you live in the Windy City, or anyplace with winter, it might be just what your wardrobe needs.