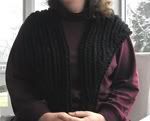 Here is my version of Wendy Wonnacott's
Gioia
. I used a bulky single-ply mystery yarn, in natural black, which my brother in law and his wife sent me from Switzerland about 12 years ago. I suspect that this scarf should be made from something slightly thinner. I used size 11 needles, which would probably be only a wee bit too big for this yarn in stocking st. I can't tell you the yardage, but I had two (presumably) 100 gram skeins and used about one and a half of them.
This photo suffers from poor exposure, but I was under pressure because a. it's a self-portrait, b. my husband has misplaced a crucial component of the tripod, which would allow the camera to actually attach to it, and c. the four-year old was extremely demanding of mommy attention, and I couldn't placate him long enough for one more retake. So, I cranked the brightness and contrast in Photoshop so you can actually see something, and I'll try again. Next time, I'll check to make sure the flash is turned on.
Later the same day
Another attempt at self-portraiture; this time, with the camera on the tripod and the child at preschool. It's a little better, as far as photos go. But not great. I guess that's one of the pitfalls of knitting in a dark yarn: it's a challenge to show off in photos.