Sensitive persons are strongly advised to stop looking RIGHT NOW! It's messy. It's ugly. But it wouldn't be a great "before" photo set-up if it was all nice and beautiful.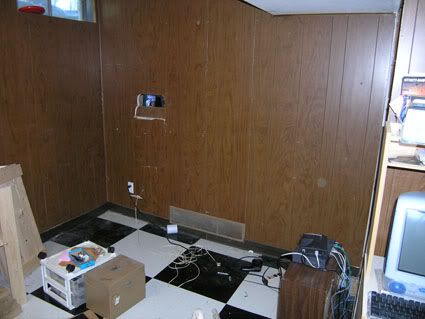 This one shows the wall where I will put up my massive storage shelves. These are 2 feet deep and 4 feet wide and will hold a significant portion of my yarn stash.
This one shows the wall that my two knitting machines will sit against. I'm having the electrician run a line of outlets along here at about 40 inches off the floor. I might paint the ugly fake panelling, but haven't got a lot of enthusiasm for that idea right now. I will probably mount wall standards above for extra shelving here, which will cover a lot of the panelling.
This chaotic corner will have my worktable on the wall to the left, under the wall-mounted shelves. My sewing machine and serger will go on this table.
The part you can't see, is that I'll use a floor to ceiling bookshelf to make a half-wall across the open area. This will help keep kids out of my stuff. Also, on the other half, we're going to bring our TV and all the extras down from the living room and probably buy a loveseat and some chairs (pray to St.Vincent on that one). We also need to work out a way to hide all the board games that are taking over and get all the extra toys out of the living room. It's a big project.
I'm reflecting on that famous quote from William Morris. "Have nothing in your house except that which you know to be useful or believe to be beautiful." I may have skewed it, but that's the gist of it. That, and "Less is more," are my new words to live by.