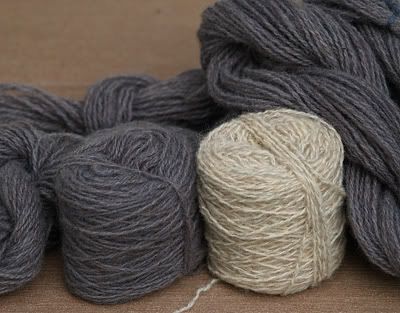 I had been planning to make such amazing progress on my new Fair Isle that you would all gasp with awe and admiration. But I had to redo the first row of the big border pattern a bunch of times and so that'll have to wait a day. And, I got side-tracked by other stuff, too.
Like, the mulberries. One particular tree that grows on the fence line we share with our favorite neighbors is quite heavy with fruit. The Little Emperor and I picked a bunch yesterday and everyone ate as much as they wanted. But still, there were lots more. (Maybe the guys didn't want to keep working at them after I pointed out the spider that was trying to escape in colander full of berries...) This morning I resolved to use the ones I had to try to dye some yarn. After all, just picking them turns my fingers quite purple. I picked a couple more cups and simmered them all in my old enamel dye pot. I wasn't sure what kind of mordant works with berries and didn't really think to look it up until after I was well under way. The tan yarn is from a thrift-shop sweater I've been frogging as I need that color for Fair Isle projects. Since I have more than I need for the current project, and I had some of that skeined up and freshly washed, I decided to see how the mulberry dye would work on it.
Although the juice looked very dark purple, like grape juice, the grey is what stuck to the yarn. That's okay; I like grey. This is a nice warm grey and I'm sure I'll find a nice Fair Isle design that it will suit perfectly.
edited to add the details.
First, I put the berries in to simmer with water. Meanwhile, I soaked the yarn in a vinegar and water solution. Then I strained the berry solids out of the dye solution and added the yarn to the dye. As that simmered for a while, I noticed that the color mostly ran right out of the yarn when I held some up out of the solution. Then I went online to see what would be a good mordant and if it was too late to add to the mix. I know that it's best to mordant the yarn before dyeing, but I was already in the middle of everything. One site I found indicated that this could work. I mixed some alum and cream of tartar in hot water and stirred that solution into the pot. It continued to simmer. Then I went back online and read that salt makes a good mordant for berry dyes, so I added 1/2 cup of that to the pot, too. It was all very unscientific! I didn't notice the natural sugars having any effects on the process. I know that I would probably get different results if I started with white yarn and properly mordanted it first.