Last night I finished plying the first two bobbins of singles. I'm not patient enough to count yardage, but it weighs about 210 grams. This is a little less than half-way through the pound.
I'm hoping to get enough yarn to make a vest. I think I'd need to buy about 2 pounds to be sure of having enough yarn for a whole sweater.
I took some pictures of my wheel the other day just because it was there. Here's one: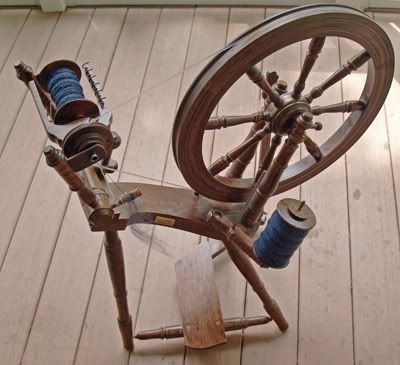 Yarn Acquisition
I ended up ordering some Spindrift from
Camilla Valley Farms
in Canada. It seemed like the surest way to get the colors I wanted in a hurry. One of my local yarn shops does carry Spindrift, but I know they were trying to clear out the old stock in the spring and I don't think they'll be ordering new until closer to fall. Camilla Valley has good prices and very speedy shipping. I recommend them for anyone trying to assemble the colors for a complex Fair Isle project.
I'm going to tinker with my Fair Isle plans a bit and hope to get started on that soon.