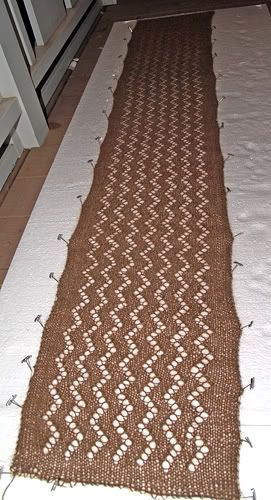 My goodness, we've been busy. In our ongoing quest to bring our household back from the brink of squalor, we've been making inroads all over the place.
A few of weeks ago I ordered two
enormous matching dressers
for me and the Mister. Our furniture is an interesting assemblage of mostly thrift-shop specials with some flat pack bargains thrown in to round out the down-scale look. So, buying these was a bit of a splurge. They were delivered a week ago Friday, but getting ready to assemble took a bit of planning and work.
Today, I did some more cleaning in Owen's room and made room to move one of our old cheap dressers in there. He's been living without a dresser for a while and the drawers under his captain's bed aren't enough. Then Mr. SABLE assembled one of the two dressers and we did a little reshuffling of stuff to put it in place. It holds
so
much! No more avoiding putting laundry away because it's too hard to figure out how to make it fit.
This morning, Owen mowed the lawn. This is an amazing leap forward. He has finally conquered his phobia of the power mower. I can't tell you what joy this brings me.
This evening I blocked the Mead Scarf.

I had been mulling over what to use to pin it out on, and then realized that I had all these big, long, sturdy pieces of styrofoam from the dresser packing materials. Eureka! Instant free blocking surface! I'm clearly not a perfectionist about this, as you can see by my slightly wavy edges. I guess that's part of why I'm not really a huge lace knitter. The whole process is fraught with more finicky details than I usually enjoy. But I did like making this scarf.
Here's a couple images from the yard yesterday.
Now I'm going to have a nice sleep.