Owen went to camp yesterday. Well, not "camp" like sleeping in a tent or a cabin in the woods, but a summer program. His camp is in St Paul MN and the "campers" sleep in an air-conditioned dormitory and housekeeping brings them clean towels daily. He and his fellow campers will learn about computer programming for gaming.
This is a big rite of passage for a 12 year old who has never really been away from his parents, even to sleep over at a friend's, who has never really been babysat (under 6 times in his life). We're hoping it goes well.
This is the dorm room: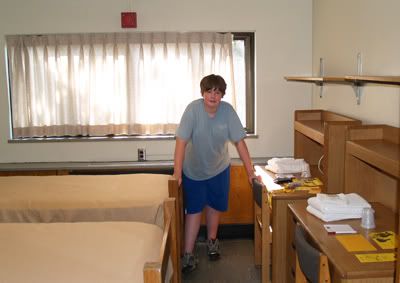 These are two of the staff members:
They seemed very nice.
I stayed over at my old college friend
Nora's
. I persuaded her to start a blog last night, and she did! Nora's a writer who sometimes knits. She wrote a book about knitting a sweater for one of her sons: kind of a memoir with a lot of history and other knitters' stories intertwined. And she's been shopping it to publishers and agents for over a year without any success. If you know an agent with an open mind, let me know. (I took a couple pictures of Nora, but they were awful. My camera was behaving a bit strangely and I caught her in the worst moments, freezing distorted expressions and so on. So, no picture this time.) She is my oldest friend. Well, you know, not that she's old, but I've maintained a friendship with her longer than with anyone else except my parents. She's been in my life even longer than my husband. Almost 28 years!!!! (Can we really be that old? It doesn't seem possible.)
I came home to find that my
Sheep Shed Studio
order had come! Six pounds of fiber!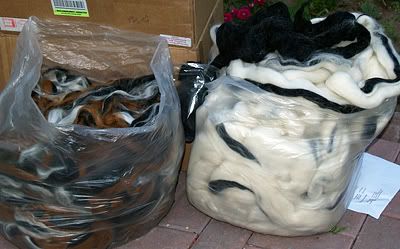 This place sells mill ends from Brown Sheep Yarn Company at a great price. $7.50 a pound! But you don't get to specify exactly what you'll get. That's ok with me. You get to choose a color family and you can request a color dominance, but you might get something a little different.
I requested a black-dominant black mix,
and a brown-dominant brown mix.
While I would have preferred more black in the black mix, that's just fine with me. I can dye the white stuff. Maybe I can mix it up to a medium grey.
And they enclosed a little bonus pack of pure black. I can't wait to dig in.