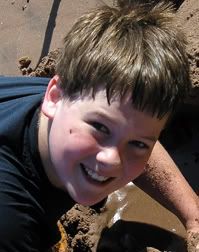 And Happy Birthday to Owen, my funny Valentine, now 11 years old. The picture at the right was taken last summer on Madeline Island. Owen is at his happiest digging in sand near water.
I don't know what I've been doing the last several days, but it sure isn't knitting. Owen was in the city spelling bee on Saturday morning. Saturday afternoon I ended up sleeping as much as I felt I could get away with. And still slept well Saturday night. I've been fighting a cold and over the weekend I felt like I easily could have spent an extra eight hours in bed if only mommies were allowed that privilege. We had Owen's birthday party on Sunday, so I had to muster the energy to clear the dining room table. This is a job I dare not delegate! The trouble with our table is that
everything
ends up there: junk mail, important mail, checks we got for our birthdays in November, any paper that comes home from school with either child, bills (new and old). You get the idea. Also, many forms of arts and crafts and the necessary supplies. Nope, no knitting stuff in the dining room, but everything else: kid art, kid crafts, beads big and small, paint (kid friendly and not), many kinds of glue (kid friendly and not), model boat parts, model train parts, little snips of paper, and more pens and pencils than we will use in the next decade. Toss in a few old newspapers and you have the idea. The cleaner must be careful to actually sort the detritus, stash the bills, file the financial statements, pocket the checks and spare change, put every art and craft in its proper place, purge the junk mail, and stay attentive to detail through the whole job. I was able to tackle the table through my head-cold and anti-histamine fog and get mostly down to bare wood. The children were reasonably well-mannered. Dr. Science took them all to see Wallace and Gromit at the cheap seats. No sooner did they return from the movie and the parents began to arrrive to pick them up.
Last night I was to bake a cheesecake for Birthday Boy to bring to school, but I did manage to delegate that. I had Owen find a recipe online and I bought the supplies. The rest was up to Owen and Scott. They did a good job of it, too. I was supposed to bake the cake for the family party tonight. Also buy lobster for the birthday dinner. If you look in the sidebar, you'll notice that my place of residence is Wisconsin. This is a long way from where lobsters live. Still, I obliged. It was not cheap. I didn't make the family cake: bought a little frozen Pepperidge Farm cake. We had homemade ice cream, so that kind of makes up for it. Through all this, I'm still slogging along with the head cold. I'm down to wanting an extra 2 hours of sleep, not 4 or 5, so that's better.
Besides all this, I was up late finishing a book I'm reading. I'm not sure yet what I think of it.
Parable of the Sower
, by Octavia Butler. It's a dystopian future kind of book, with global warming, economic collapse and environmental devastation, and all the attendant anarchy. For this kind of fiction, I think Margaret Atwood sets the standard with
The Handmaid's Tale
and
Oryx and Crake
. Still, this wasn't a bad read, and was hard to put down after the half-way point. And it does seem to cry out for a sequel or two: it reads like Part 1 of a trilogy.
So, not much knitting from me these days. I did make an Alishar Hat. I need to darn in ends and block before I show the world. And make a bigger one. I got the skeleton of the pattern written. Need to make some charts and explain the tricky stuff a little better.
The big news in my little knitting orbit is that Wendy Bernard of
Knit and Tonic
has joined
The Garter Belt
! She'll be a wonderful asset to our little store and we're happy to have her on board.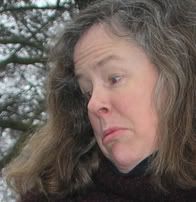 This is a picture of the face a mother in her forties makes when a child is approaching with
something
in his extended hand, heading right for the sweet spot, about 4 inches out from said mother's nose. Yeah, my husband really knows how to capture his wife at her best.