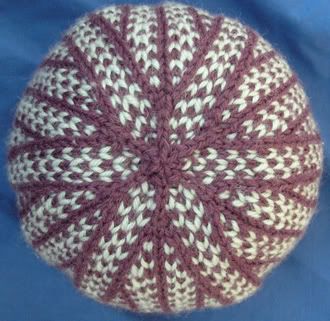 Just a little teaser of the next upcoming pattern. This first sample came out way too small, but I've started another. I'll be keeping the effect on top, though, because I think it's pretty cool.
Not a lot of other news to report. It's cold cold cold here. I awoke to a pleasant surprise: temperature at +10 F at 7 a.m. That's about 28 degrees warmer than it was two days ago at the same time of day.
We all seem to be recovering from our tummy bugs. Thank goodness!
Not much else to report right now. Some boring socks are almost done. They're so routine, they don't even count. Time to bring some projects out of hibernation.
Later
Just found this little bit of fun:
Make your own tartan
This is my first effort. Give it a whirl!