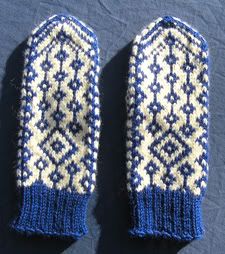 Newly completed: The Diamond Mittens in worsted weight yarn for adult-sized hands. These would fit either a medium to large size woman's hand, or a small to medium man's hand. For child sized mittens, make the same pattern in sport weight on smaller needles.
Pattern to come to
The Garter Belt
soon! I have it about two-thirds written. Should be available by the weekend!
UPDATE:
Diamond Mitten Pattern Here!
. If you want the hat, too, you should wait a few more days, because there will be a special price on the pair of patterns.