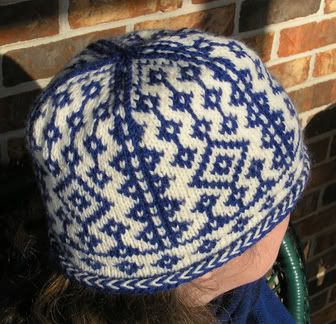 Mine is a little big, but you can make it smaller by using smaller needles and a tighter gauge. The pattern will be available at The Garter Belt as soon as Wendy performs her magic. The good news is that I was able to make the mitten and hat set from the 100 gram ball of blue and 4 oz skein of white. The blue was the worrisome one.
Next up in this series: cuff-to-tip mittens with a side gusset for the thumb.
Also, it's this time of year:
I made Owen's stocking in Dec. 1995 and Colin's in December of 2002. (Yes, he spent his first Christmas without a personalized stocking. What are you going to do? Report me to Martha Stewart?) The really big problem with these stockings is that Colin's is noticably larger than Owen's. Try explaining to a kid why it doesn't really matter. It's not like Santa keeps on shoving loot in there until it's full. Owen's stocking was adapted from a magazine pattern. I think it was a 1970s Family Circle Christmas Crap, er I mean, Craft issue. Colin's was a little more free-form. With a little tweaking, I think Colin's could be a nice pattern. But in a kid's view, it's perfect because it is REALLY BIG!