After reviewing all the wonderful essays, I decided to give 7 people Wool Ease prizes. In no particular order here they are.
Joeli C
Oh woe is me: my name is Joeli and, alas, I am a
yarnaholic. I need a big box of Wool-Ease like I need
a hole in my head, which is to say, I need it
desperately (a hole in my head would make more storage
room for yarn, in case you were curious). My main
reason for asking though is not for my sake but for
the sake of my boyfriend. My boyfriend needs a
sweater, and he needs it badly. His criteria for the
sweater are as follows:
1)It has to be inexpensive for me to make.
2)It has to be machine washable.
That's it. He really is such an easy boy to knit
for--so grateful for everything. Unfortunately I am
only a poor college student with no money for yarn to
make him a sweater and none in my pitiful stash that
will work. Take pity on me, send me your yarn. Give
me a chance to challenge the sweater curse once and
for all. Help me to please my boyfriend in a way that
only a knitter can. Thank you.
--------------------------------------------
Alice C
Wool-Ease would be a great yarn for my group of friends who knit prayer & meditation shawls for those going through a hard time. The coolest part of our group is that it is very multi-generational! My 14 year old and her friends sit mixed among 70 & 80 year olds and laugh at jokes together, eat great goodies together and knit together. In fact, you can come to our monthly knitting times and work on whatever you want, not even a prayer shawl. We're very inclusive:)
Some of our shawls go to people we know who are in the hospital, or undergoing chemo, etc. Others go off to homeless shelters or with a nurse friend to people we'll never meet. It feels good, just like knitting and just like our knitty group.
So, your big box would help us keep creating, and keep recruiting more knitters. Some in our group can't afford much yarn, others can. This would give everyone the chance.
----------------------------------------------------
Temperance B
Ode to Wool Ease
Bastard child of a sheep and Dupont
Doesn't know what to be
Doesn't dye, doesn't felt
Despised by ewe, just right for me
Lovely colors, soft to the touch
Snugged up tight or wrapped around
Garter, stockinet or cable
Knitted stitches perfect to see
Wash in hot, dry to fluff
Not to pricey, easy care
It doesn't itch or irritate
Wool Ease please for me.
-------------------------------------
Heather B
Wool Ease, dear Wool Ease,
You boggle the mind.
My wallet you may please,
You're easy to find.
But what does one make
Of acrylic and wool?
What could I do with
A great big box full?
Some knits and some purls;
And maybe some cables.
Okay, it's not cashmere,
Or the Noro of fables.
But, Wool Ease, for now,
You'd come in quite handy.
For an afghan or poncho,
I think you'd be handy.
But do not despair,
If you're thrown in my stash.
You can be sure you'll be used
When I'm strapped for cash.
-------------------------------------------
Lucinda of Rochester
My dad is, in the l33t speak the kids seem to use these days, teh roxor. He volunteers for Habitat for Humanity. He is a rockin' grandfather to my son. He was the Rock of Gibraltar for my mom when she was in the hospital a few months ago. He taught me the importance of balancing a checkbook. (Like I said, teh roxor.)
Anyway, I decided a while ago that I wanted to make him a sweater. Talked it over with my Mom and she said that he would prefer a machine-washable kind of yarn, so he can just throw it in the laundry without fear of shrinkage. (Yeah, he does his own laundry too.)
So, if you decide to give the yarn to me, I guarantee that I will turn it into an awesome sweater for my awesome Dad.
----------------------------------------
Liz R
Here is my sob story that I hope will win me the yarn.  I am currently organizing knitting projects and supplies to keep me company next month.  My husband will be having brain surgery and will be in the hospital for about 10 days (if everything goes well).  I will not get into all the details with you because it would take a lot more than 200 words.  I have taken time off work and will spend every day with him.  I would not be able to concentrate on work anyway.  Since he will be having a lot of procedures and I assume sleeping a lot I am relying on my knitting to keep me sane.  I have been knitting for about 4 months and with 10 full days of knitting next month I should be a much better knitter at the end of this ordeal not to mention a much less stressed and happier person. 
-----------------------------------------
Lisa P. (urban pagan)
"What I would do with a big box of Wool Ease" by
urbanpagan
I've thought about this for some time now. I thought
of how I would dazzle you with a grand tale of how I
would knit hats for the cancer center here at UNC
Hospitals. Or a tale of how I would make some toys
for the Children's Hospital. Of course, there is
always the story of how I would make hats, scarves and
other items for the troops overseas. All of these are
things that I have done previously and I know that I
will do again.
Maybe I would stack it around the almighty Cone of
Power (as seen on my blog) and build a shrine of yarny
goodness to which I would offer a weekly sacrifice of
broken needles, torn yarn threads, and Bacardi rum in
exchange for the secrets to the elusive techniques of
intarsia, fair isle and steeking.
But honestly, if I had a big box of Wool Ease yarn, I
would probably throw it all on my bed and roll around
in it, laughing like a fool and hugging it to my chest
and/or joyously throwing it in the air, giggling with
glee all the while getting stared at by my husband and
cats who would be thinking it was time to have me
committed.
Yeah... it would most certainly the latter.
What they'll each receive:
Joeli will get not quite enough piney green to make a sweater. I wanted to give her a sweater's worth, because I applaud the spirit of bucking superstition. But Cindy, my co-judge, didn't want it hanging over our heads if anything bad happened to Joeli and the BF's adorable relationship. Maybe she can make a sweatervest. or as those Brits would say, a waistcoat.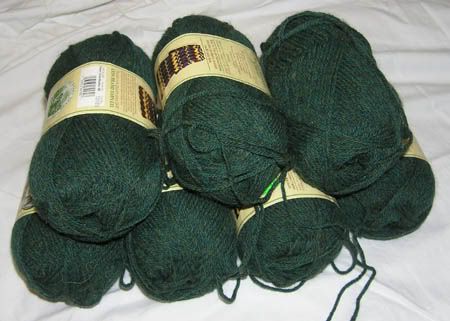 Alice will receive a large mass of burgundy colored Wool Ease, with bright colored flecks in it. This originally came in Big Bundles, and some has been put into some partial UFOs the group will have to frog. But it should make a good size shawl.
Temperance and Heather will each get 5 miscellaneous skeins. These were the only poetry entries and I enjoyed them a lot.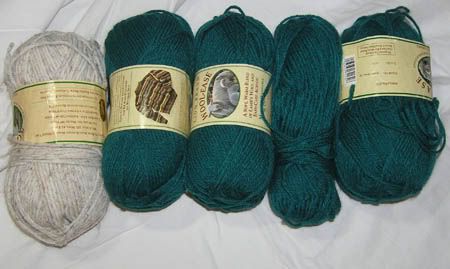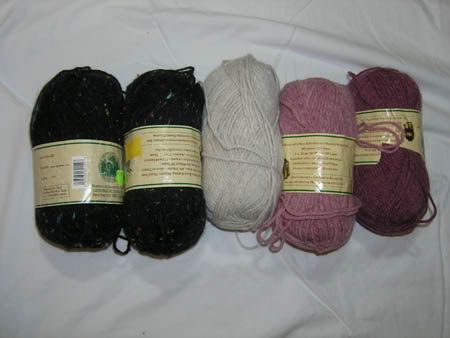 Lucinda will get 9 skeins of a color called Tartan Twist which is dark purple and green. I hope her dad will like it.
Liz will get some yarn to sustain her through this terrible time. And she will get my thoughts and prayers, and I hope all of yours, too.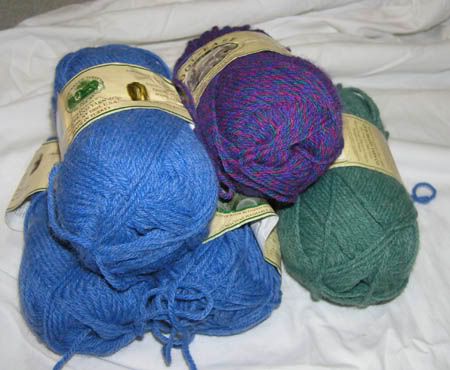 Lisa will get enough yarn to roll in. Although this isn't Wool Ease, it is a stash of other blends, some better and some worse.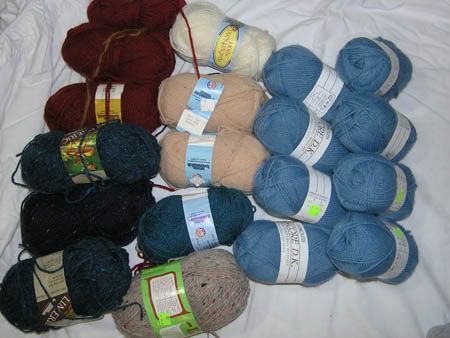 I hope you will all send pics of any finished objects and Lisa, I want a pic of you rolling in your yarn!
Make sure you all email me your mailing addresses soon!