The Kate Cardigan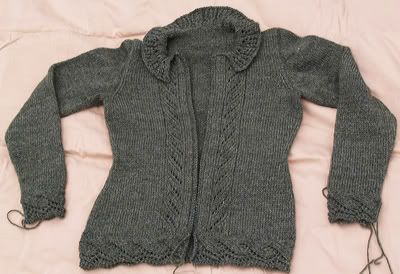 I decided on a narrow front band that folds to a facing which stabilizes the front bands. I have a few ideas for closures, maybe button loops along the edge and pearly buttons. We'll see.
I'm not very happy with this collar, but not sure I want to take it out and redo. I saw it on a person last night, and I think the collar is better on than lying flat on the ground. I think this collar is a bit too frilly for my personal aesthetic, but, oh well. Interestingly, I think the other side of the collar, the part that won't show in normal wear, is much better. It still has a lacy quality, but it's less busy.
Here's a detail of the fronts at the lower edge:
The Kauni Cardigan
This is coming along. I'd like to get it finished soon. One more sleeve and a lot of finishing details. Last night after I bound off the top of the sleeve, I spent about 20 minutes winding yarn off my cones to get the colors to line up when I cast on for the second sleeve. It would be nice if both sleeves start and stop at similar places in the color scheme.