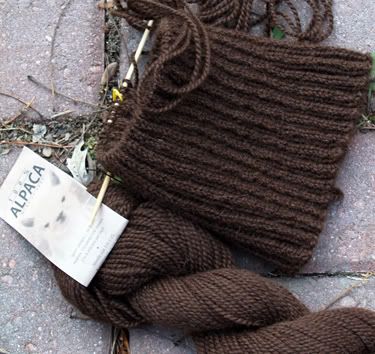 This is a simple alpaca watchcap for my brother. This yarn is wonderful! Blue Sky Alpaca sport weight my friend
Wendy
sent. My brother has lost most of his hair, so I think a nice cozy alpaca watch cap will be a good thing in a Maine winter.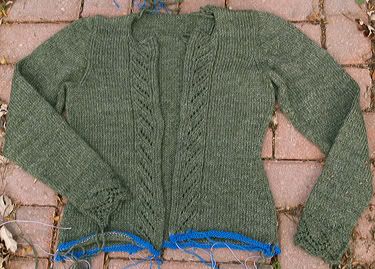 This is a cardigan I'm making for my sister, and maybe I'll make a pattern of it, too. I've done the majority of the knitting on the machine, to speed things up, but I have a lot of finishing to go, still. The blue yarn is waste yarn that's just holding the stitches. I've got a hand-knit length of the same edging from the cuff of the sleeves almost ready to attach to the bottom hem. I have a few ideas for the neckline and I'm quite baffled, as yet, about how to handle the front edges and closing. Mulling mulling.
The color of this yarn is one I knew would be hard to capture in a photograph. It's kind of a loden, mossy, grey-green, more green than grey. The camera caught it more grey than green, so I compensated in photoshop, and indeed, I may have gone too far toward green now. Alas. And your monitor will see it differently anyway.
It's Universal Yarns worsted wool, which I got on sale in the spring at The Sow's Ear. Total bargain project!
In Other News
For those who occasionally ask, Mr. SABLE is still collecting unemployment insurance. We're still doing ok with that. I'd say he's enjoying his little sabbatical from the working world at this point. Stay tuned!